Controversial traditional healer and reality TV star Gogo Maweni whose real name is Lee-Ann Makopo, has revealed that she will turn her husband Sabelo Mgube, into a zombie should he die first.
Read More:
Gogo Maweni Responds To 'Fake Sangoma' Claims
Gogo Maweni has earned a reputation for being a fearless and outspoken sangoma in the public domain. Her tell-it-lie-it-is attitude won the hearts of many people and sometimes she even found herself being dragged over her opinions.
During an Instagram live session with musician Sizwe Mdlalose, the traditional healer revealed that they signed a contract with her hubby to turn him into a tokoloshe should he pass away first.
She said Sabelo will also turn her into a zombie should she die first. Maweni added that they work tirelessly with her husband to provide for their children, hence they both cannot afford to lose one another.
"Me and Sabelo have signed that when he dies, I will turn him into a zombie and if I die he turns me into a zombie. Because we work hard and we are good together we cannot let our children suffer because one of us has died. We have to resurrect that person?
Maweni further revealed that she does not hide anything from her children, adding that they even know about her snakes and animals.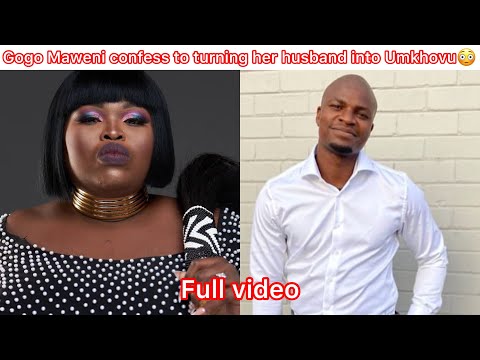 Gogo Maweni recently came out with guns blazing to address rumors that she is a fake sangoma. This comes after she was called out by Thuli Mfeka, who recently labeled her a "fake" sangoma. The traditional healer said initially she was not going to address the allegations, but later changed her mind.

"I was not going to address this but it is actually very funny that a whole human being that was birthed, that was pushed out by its mother has the audacity to create a fake account to tarnish the names of the healers in South Africa. Firstly, mind you, why don't you have the balls to create an account with your real name and real pictures?" asked Maweni.

She slammed rumours that she is living a high life and making money out of people. The reality TV star made it clear that she is no stranger to the soft life.

"I was never born into poverty. I knew there was Louis Vuitton and Gucci before I became a healer. I knew how champagne tasted like before I became a healer. You have so much time, you have nothing else to do but to sit and think about something nasty to say about the famous South African healers. I'm so perplexed because I traveled the world before you even thought about it, I've sat in the most expensive cars, I grew up in a big house, I was never brought up in poverty," she further said.

She said her job as a healer is not the cause of her high life, but she is used to it from birth. "I never became who I am because I am a healer. I have always lived a high standard life. I am surprised that somebody feels that somehow we are manipulating people to buy expensive clothes, drinks and cars. I was never brought up in poverty and I have never suffered in my life so don't talk sh*t about me," she said.

Image Cred: Twitter