In the latest episode of
The Ndlovu's Uncut
, the young couple spoke about their miscarriage. The couple revealed that they found out they were pregnant in July 2020 however their world came crashing down when they lost the baby.
Read more:
Trouble In Paradise At The Ndlovu's Household Already?

At the beginning of the video,
Stephanie Ndlovu
takes a pregnancy test and it came back positive. She had set up a hidden camera so she could surprise
Hungani Ndlovu.
A very anxious but visibly happy Stephanie placed the pregnancy test on top of the bed and Hungani's reaction when seeing it, was rather priceless.
"It was a lot of emotions all at one go, it was an overwhelming feeling," said
Hungani
.
The couple explained that before they could go to the doctor for a check-up, they decided to call their parents and siblings to let them know. Hungani's sister was also pregnant at around the same time as them.
They had their first check-up at 8 weeks and that was when they found out that they lost the baby. Stephanie said she could not remember the doctor's words correctly because she was over-excited at being pregnant, "She did the scan and said 'I'm sorry there's no embryo.' She diagnosed me and said it was a blighted ovum." This is explained as an embryo that doesn't develop or stops developing during early pregnancy.
Her reaction to the news was of a person who just wanted to keep it moving, saying that is her coping mechanism in life.
"My coping mechanism to any trauma is to just switch off. Having done this procedure was more traumatic to me, than finding out about the miscarriage," she explained.
Stephanie said the whole procedure was very painful and would never wish it on her worst enemy.
Hungani also said he was traumatising for him to watch his wife go through such a painful ordeal. "I just felt like I was useless."
Then fast forward to after she finished her medication, Stephanie said she went to the bathroom and blood just started gushing out from her. They rushed to the ER and she remembers falling in and out of consciousness.
"To be honest I thought I was dying," said Stephanie.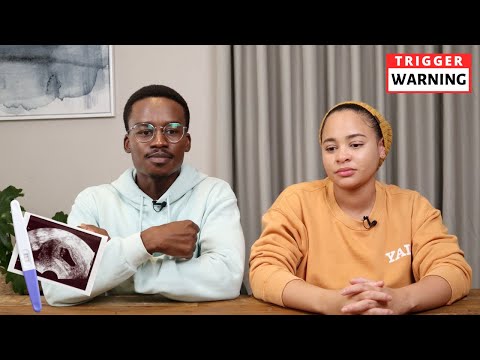 Sharing the video, Hungani and Stephanie said they wanted to share the story many times but 2 years later, they finally gained the courage.
"We had a miscarriage. This was a story we wanted to tell so many times, not for views or ratings or anything but because so many women and couples go through miscarriages and it can often feel very lonely because we don't talk about it enough, it doesn't matter what stage of pregnancy it may have been, the loss is still felt and deeply so. Our hearts are with all those who have experienced any loss of pregnancy. All our love"
Image credit: Instagram