In international entertainment news, it seems as though "Jigga, Jigga that n****  Jigga" (Jay Z, for those who are wondering what on earth we're talking about) has decided to cook up some beef with the light skinned  Keith  Sweat (Drizzy Drake).  At first we were thinnking "Ugh, just another hip hop beef" but, hang on, hasn't Jay-Z been all for Drake since his career began?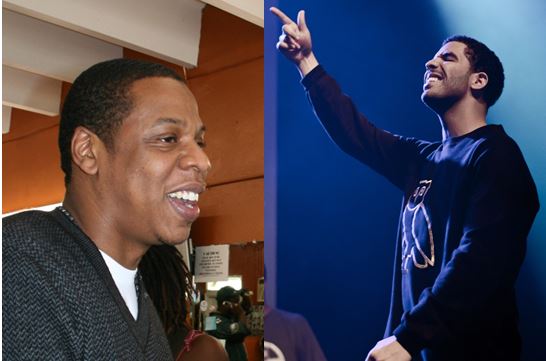 In Drakes' 2010 album Thank me later, Jay -Z is heard giving the Toronto native some advice in a song titled Light Up:
"Drake, here's how they gone come at you, with these silly rap feuds tryna distract you in disguise in a form of a favour."
Sean and Aubrey have not only collaborated twice in a track but Jay Z even gave him the go-ahead to feature in  Beyonce's single Mine and we all know how sceptical Blue Ivy's dad is when it comes to these rappers working with his wifey.   
So here we are thinking that all is good between the leader of Roc Nation and the leader of O.V.O until, hau, Mr Carter pulled a fast one on us on his newest freestyle of We Made It (which was initially a track by Soulja Boy and Drake)
Jay Z raps: "Sorry Mrs Drizzy for so much I taught, silly me for rapping about sh** that I really bought."
A clear response to Drake's Trophies single which goes a little something like this:
"And anything I got is not a rental, I own that m****** f*****………A bunch of handshakes from the fakes, but n **** I do not want to be friends though."
By the looks of things Jay Z did not take lightly to that line hence the Mrs Drizzy response.  Drake is yet to send a response (If he ever will). As an aside, we're no lyrical experts, but that line by Jay-Z was a bit weak for a veteran like him.  
Credit images:  en.wikepedia.org