Last night, Cape Town food blogger Kamini Pather was announced as the second winner of Masterchef SA to local TV audiences. While the show was airing live on TV, this year's finalists, together with an invite-only select of media and guests, feasted the finale episode at a special dinner at Tsogo Sun Hyde Park. ZAlebs reporter Clayton Morar attended the special gathering to celebrate the show's finalists, and of course, honour the latest Masterchef SA winner too.
Around 160 guests attended the special three-course dinner, which included sushi starter and beef as mains, as this year's season of Masterchef SA came to a close.
And there could only be one winner! Kamini Pather, the focused 29-year-old food blogger from Cape Town narrowly beat the 23-year-old scientist from Mafikeng, Leandri van der Wat, in the final round at the MasterChef kitchen on the beautiful Nederburg Wine Estate near Cape Town – which was recorded earlier this year. In the end Kamini edged out Leandri by 89 votes to 83.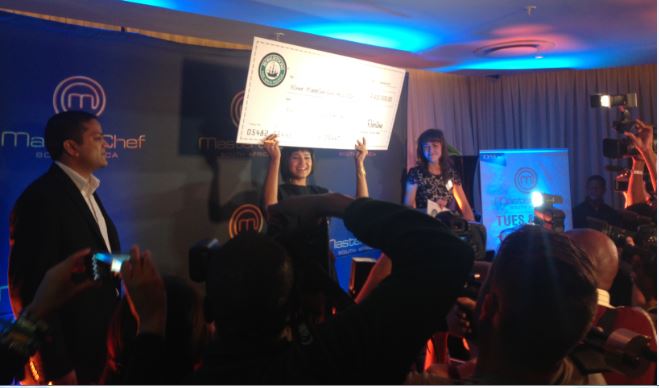 A thrilled Kamini told Zalebs after her announcement as the winner, that she was thrilled to have won Masterchef SA.
"It hasn't sunk in yet. I have enjoyed being a part of this journey and it was such a tough finale contest, but I was thrilled to have come out on top," she said.
"Maybe my mom will even let me cook Christmas dinner this year!" Kamini laughed delightedly.
She added that she wanted to spend her money "on something useful" towards her food dream.
"I've always seen myself engaging with food and in media and that's where I will continue to be. While I may not want to open a restaurant, I'd love to start a cooking show or fun a project that focus around cooking food on TV," she admitted.
Some of the prizes Kamini walks away with from the competition include: R400 000 in cash from Robertsons; a brand new VW Golf 7; a 5-night luxurious Maia Luxury Resort & Spa holiday in the Seychelles, a year's free shopping at Woolworths valued at R100 000, as well as a year's supply of wine and a full sommelier course from Nederburg!
Not all was lost for runner-up Leandri. She bagged R100 000 cash, courtesy of Robertson's for her efforts in this year's competition.
Don't forget to follow us on Twitter and find us on Facebook