We do it everywhere: on top of the kitchen counter, in the boot of the car even over balconies, depending on the time of day.  Sex sells and Comedy Central knows that very well. They know it so well that they have even paid the likes of John Vlismas, Nik Rabinowitsz,Trevor Gumbi, Celeste Ntuli and Anele Mdoda to engage in an "orgy" of sexual comedy!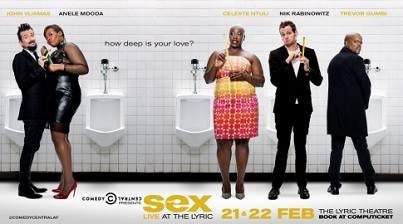 Credit: Facebook/Comedy Central Africa
During the preparations for this sex fiasco Vlismas had a few choice words with regards to his fellow promiscuous cast members:
"In terms of the cast, we have had a few setbacks, as Celeste Ntuli has failed the mandatory virginity test, and we can now confirm that Nik Rabinowitz is actually married, and therefore has been disqualified from making jokes about fellatio.  Other than that, with the set looking amazing, the 'mood' lighting currently being programmed and Anele Mdoda spotted buying a family-sized tub of lube, things are shaping up for Sex to be the finest exposé of procreation ever!" Said Vlismas.
Comedy Central is currently inviting members of the public to submit suggestions for the "Twittoris" section of the stand-up spectacular – the special audience participation segment that promises an upsurge of hormonal extravagance and testicular eloquence you will never forget.
On Monday, the ZAlebs team was close to being admitted to ICU for excessive heart palpitations after this package (see image below) was delivered to our headquarters.  What made it even more awkward was that the box was personally delivered to our editorial table by the boss.  "You're all fired" rang in our heads only to realise that inside was an invitation to the actual event.  Thank you Comedy Central, we'll send you our medical bill in due time!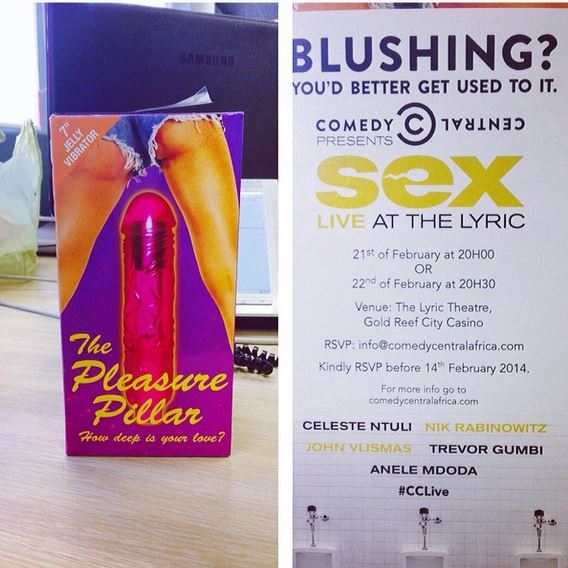 Comedy Central Presents Sex Live at the Lyric takes place at the Lyric Theatre, Gold Reef City, Ormonde, Johannesburg on 21-22 February 2014.
Credit; Main image (tapstories.blogspot.com)