Generations Actress Maggie Benedict (32) attended her court hearing earlier on this morning after spending several hours in a holding cell at the Linden Police station last night following an arrest for shoplifting.  Many of her followers have been trying to figure out why Maggie would commit such a petty crime and if Generations creator Mfundi Vundla is even paying cast members enough. Disappointment and sympathy tweets flooded twitter earlier on today most people showing their heartfelt support towards Maggie.
Click here for pictures of Maggie's arrest
Scandal
actress Masasa Mbangeni showed her support towards Maggie during this trying time and expressed her disgust at how some people continue to act towards Maggie regardless of her great talent.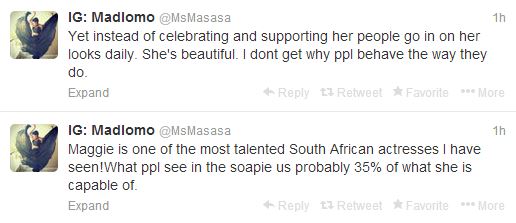 Maggie's court appearance has been adjourned for the month of January. See below for the latest tweets in this saga: