Things got really heated on Instagram between Malusi Gigaba's wife, Norma, and a woman named Buhle Mkhize on Thursday evening.
It seems like Buhle is tired of being accused of wanting Malusi and being insulted by "Mrs Gigabyte", who also called her a prostitute, according to a screenshot that was posted on the photo-sharing site. 
Check out the exchange between the two ladies below. Screenshots courtesy of Justcurious.co.za.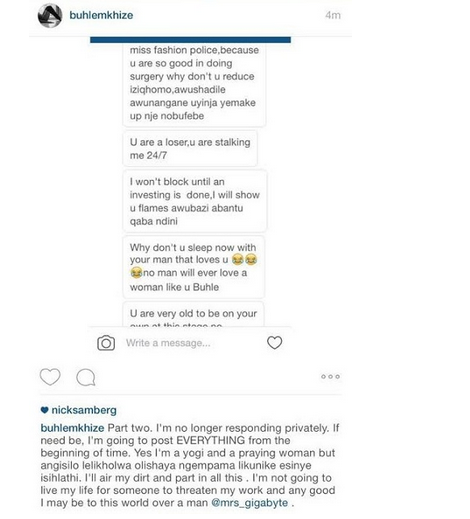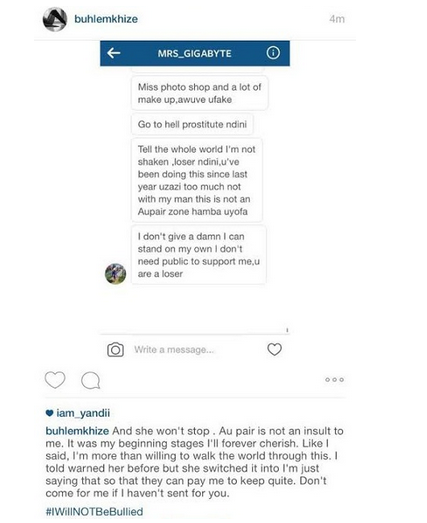 After seeing the messages, people took to social media to express their shock. 
Mrs Gigabyte 😳😳😳😳😳😳😳😳

— Tebogo (@Tebogo_ZA) October 9, 2015
Mrs Gigabyte drags 😱😱😱😱😱

— My Friend (@Bhebheza_) October 9, 2015
Buhle is who's wife? Who is she? What's happening? RT @MissLuu_: Buhle Mkhize Vs Mrs Gigabyte on Insta😤😤 yoooh #shotsfired

— Gugu Ndabezitha (@GuguNdabezitha) October 8, 2015
Buhle Mkhize Vs Mrs Gigabyte on Insta😤😤 yoooh #shotsfired

— Lucy makola. (@MissLuu_) October 8, 2015
Image credit: Instagram