If you thought Mshoza was having a bad day on Wednesday, you' would be very wrong.
The kwaito star, who trended after her latest plastic surgery procedure - a Nicki Minaj transformation, is having a great laugh about all those mean comments. 
After a video of the singer looking rather different surfaced on social media, people started making fun of her. While some were attacking her, others were genuinely concerned. 
READ: Mshoza: I don't hate being black 
Mshoza has taken to Instagram to show everyone that she couldn't be bothered about what they think of her. In fact, she finds the whole situation funny.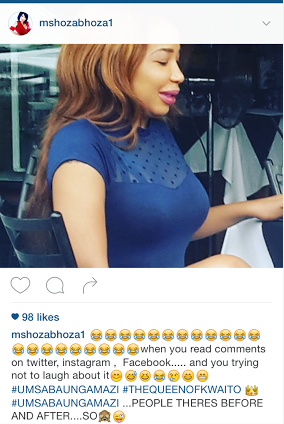 So she made it clear that there's a before and after, right? Does this mean that this picture is the "after"?
Hmmm... Maybe Mshoza should slow down now - before things get out of hand. 
Image credit: Instagram