The day has finally arrived; Oscar Pistorius was expected to appear at the Pretoria Magistrate's Court today to learn about the charges he faces in connection with the killing of his girlfriend, Reeva Steenkamp. On what would've been Steenkamps 30th birthday, an emotional Oscar who seems to have lost a lot of weight stood in the dock waiting for the court proceedings to commence as an unforgiving swarm of media flickered there camera's away.  Behind Oscar were Reeva's friends (Gina and Kim Myers) as well as Oscar's family.  Both parties wore heavy emotions on their faces as they waited for the charges to be announced.  During the hearing it was announced that the trial against the double amputee gold medallists would commence from the 3rd until the 23rd of March 2014.  

An influx of tweets from various media houses with the hash tag #OscarPistorius appeared on many timelines documenting the atmosphere at the Pretoria Magistrate's Court, in one occasion Pistorius was seen praying with his siblings and seldom gave his sister a smile before the hearing commenced. Pistorius killed Reeva in the early hours of Valentines day this year after he claimed to have mistakenly took her for an intruder.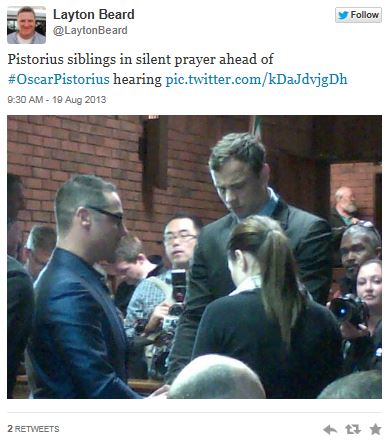 Image Courtesy of REUTERS
Don't forget to follow us on Twitter and Follow us on Facebook.