We've seen her showing off her acting prowess on SABC 1's newest sitcom Single Guy's and she has recently been confirmed as the new host for So You Think You Can Dance Season 3.
Her natural taste for style afforded her a modelling career that has taken her to the most prestigious international fashion shows in the world. With a background like this, Sinazo Yolwa needs no introductions; she's one of the most recognizable faces in Mzansi Entertainment.
ZAlebs is proud to bring you her new column on our website where she will be brining you her own stylistic view on what's hot, what's not and what bubbling trends to look out for.
To kick things off; this week the focus is Monochrome. Let's see what Sinazo has to say about the current monochrome trends.
The monochrome trend, like so many others, has made a huge comeback, but gone are the days of former US First Lady Jackie O's chic suits and sunglasses or the over-the-top costumes Grace Jones favoured.  The latest spin on monochrome styling features sleek, elegant cuts; such as those seen on Beyonce at this year's Grammy Awards.
As we wll know, wherever 'Queen B' sets her stylish foot, the world is sure to follow. Take the 'Twerk Machine', Miley Cyrus for example.  Miley may be one of the most controversial celebrities in Hollywood right now (due, in part, to her outrageous attempts to shake off her squeaky-clean Hannah Montana image) but the child is on point with fashion trends.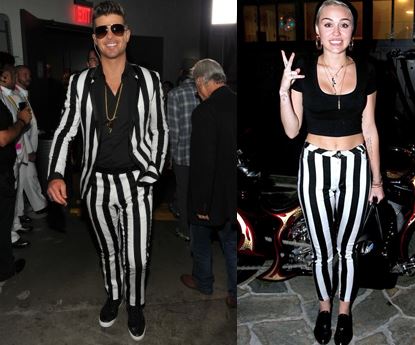 Let's just pretend, for our own sanity, that the tacky flesh-coloured pvc two piece she was almost wearing at the VMA's didn't happen, shall we? Good.  Let's rather focus on the hunky Robine Thicke, who donned a black and white striped suit for their 'Blurred Lines' MTV VMA performance.
My favourite part about this trend is how easy it is to put together.  A pair of black jeans and a crisp white shirt (a la kim K) and you're good to go!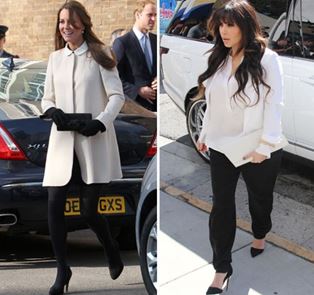 Forget the fashion rules when ti comes to dressing up - horizontal stripes are not the enemy!  Some of the world's most noted fashion icons continuously push the boundaries and set new rules.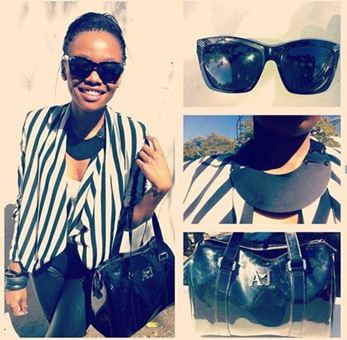 And if you're looking for local inspiration, look no further than your girl B*.  Bonang has embraced this trend wholeheartedly and it sure is a good look on her.
So, to 'Keep up with the Joneses (or Kardashians, or Mathebas - take your pick) I've put together a simple monochrome 'day look':
The focal point here is the striped tights, so feel free to play around with the different variations of stripes.  Wider stripes tend to attract more attention, so use your discretion based on the ocassion. 
Narrow stripes might work better for a more formal affair, such as workplace meetings.  I've paired mine up with a 'Forever Young' graphic vest and if you're on a night out, bling heels are a must to add a touch of glam.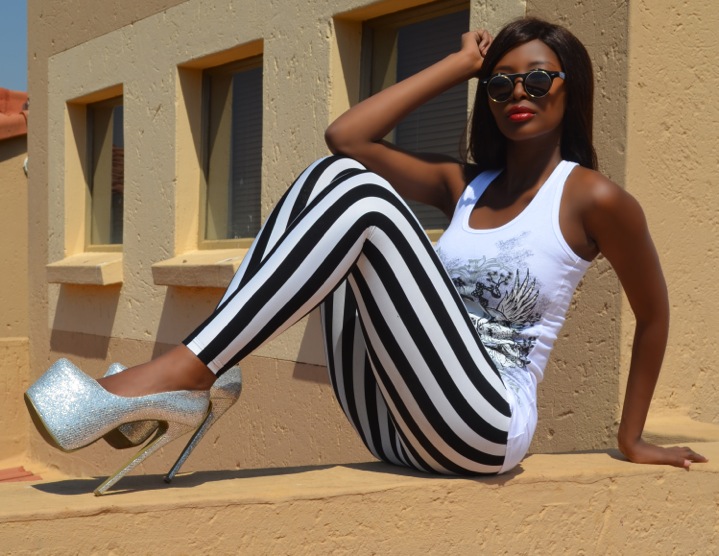 Until next time, stay trendy. Stay fabulous!
Love Sinazo
Sinazo Yolwa dressed by Purfect8
Purfect8 Clothing and Accessories available from Bello Couture Melrose and Maponya Mall (011 070 7996)
Photographer: Ayoola Oduntan
Don't forget to follow us on Twitter and find us on Facebook