Unathi Nkayi
had a scary encounter with a man who apparently assaulted her repeatedly. The Idols SA judge was left frantic after the assault happened and said she felt violated as other men put their hands on her.
Read more:
Unathi Nkayi Gets Attacked!
When will women ever feel safe in this country? Media personality
Unathi Nkayi
revealed on Instagram that she was assaulted by a man, who is a taxi driver, bumped into her car. Instead of apologising or seeing fault in the situation, the man intimidated her by shouting at the songstress.
Unathi
did not allow the man to intimidate her, so he proceeded to put his hands on her numerous times, violating her in the process. If that was not enough, Unathi said other men came to her defense to try and diffuse the situation, but they too put their hands on her.
What a bad way to start Women's Month! Unathi will not be taking any of this lying down and she said she will be opening a hit and run case against the male.
"WHAT we deal with as South African WOMEN!!!!! He bumps my car, shouts at me to intimidate me. When that doesn't work he repeatedly puts his hands on me. When that doesn't work he flees. BUT the other men trying to diffuse the situation ALSO think it's okay TO PUT THEIR HANDS ON ME. Happy Women's Month ladies. PS I'm fine. Will open up a hit and run case. WOAW South Africa. WOAW," she captioned her posts.
She posted numeorus videos where she and the taxi driver and arguing and shouting at one another. The man repeatedly laid hands on her and called her names. A very angry Unathi warns the man to not touch her and said the man was driving on the wrong side of the road. She then asked the man to pay for her car and requested for his ID number but he refused.
Many people took to her comments section and tried to comfort her.
"I hope they get him and please post his shameful ass when he's paying for your car. These pigs think they can do anything I had an identical situation in late 2019," nana01gp wrote.
"Taxi drivers think they own the roads, they make us drive as if they bought us cars. They act as if they're the ministers of transportation. I'm sorry this happened to you Sis omdala. I'm just thankful that you took a video of his car and him. These drivers are used to bumping our cars then want us to pay their cars. they even pulled out a gun at some point," _yandambatha said.
"WTF?! He picked the wrong one today. Glad you're okay babe," wrote melbala
"Oh Dear God when does it end!! 💔💔💔💔😭 sorry my friend," celesetentuli wrote.
Unathi has proven to be a strong woman who never backs down.
Just a few months back she got bullied on social media for her looks.
The bully by the name of Andile Simelane made fun of Unathi's looks. He posted a before and after picture of her saying money made her more attractive.
"I would like to introduce you to @andilerh_simelane MY CYBER BULLY for TODAY. Tomorrow it may be someone else BUT today he woke up and decided he's going to HUMILIATE me. I thought I'd give him what he wants ATTENTION,"
she wrote.
"I was actually very sick here and the journalist forced me for a picture. But be the a**hole that you want us to know you as,
" she said.
He apologised repeatedly.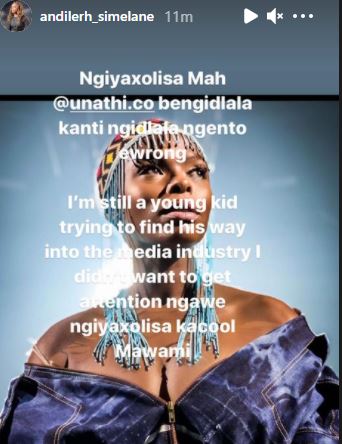 Read next:
Da Les Is Going To Be A Dad Again
Picture credit: Instagram