Representing Zalebs at the Durban July was reporter, Waheeda Peters. She gives us a full descriptive lowdown of who was wearing what at South Africa's Premier Horse Racing Event. 
The stage was perfectly set for an epic Vodacom Durban July this weekend. Saturday turned out to be a sweltering, sunny day with clear skies, paving the way for one of the busiest and most colourful racedays. It was wonderful to see fashionistas from 9am in the morning, all dressed in their gorgeous 'posh' ensemble, having breakfast in and around city hotspots, waiting for the gates to open at 10am.
Local fashionistas definitely made a huge effort to ensure they looked posh, donning, vintage dresses, over-the top hats and clutch bags from the 1940s era. However, some chose to make a statement like Carly Oosthuizen, who wore her own recycled creation. Her dress was made out of recycled paper, stuck with cottonwool balls.
"My message is simple, we all need to remember to recycle and preserve our world. I always create garments with themes especially for the July, it helps bring the message home," she said. However by the time she was leaving, racegoers decided to take mementos off her dress, leaving her all 'cotton-balled' out.
Another inspiring garment was a dress made out of the colours from the South African flag, with pictures of Nelson Mandela. Clarissa Rampali donned this Yasmin Saanglae design at the 2013 Vodacom Durban July. 
"I just wanted to pay tribute to our beloved Madiba, who has been a source of inspiration to me and who gave us a chance to all be united in such events," added Saanglae.
The main colour that dominated was definitely black which is said to be a classic, posh colour. The fashion parade ring seems to get fuller as years pass and this year the ring was totally packed to capacity as eager fashionistas struck poses in the hope of being noticed by the television cameras in the arena. For some this is the highlight of their day.
"I just want to be noticed and maybe if I am on TV my friends can see that I am 'famous for a few seconds, that would be awesome, said Linda Mbanane.
Durban July: A Platform for Young Designers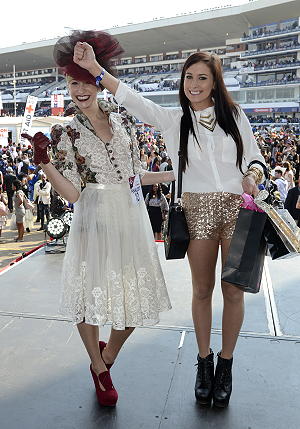 However, the most important fashion events for raceday were not just the fashion parades but the announcement of the Vodacom Durban July Young Designer Award winner who was Durban University of Technology student Danielle de Bruyn for her gorgeous 1947 inspired creation modelled on stage by Chloe Stone. 
"I found my inspiration from a 1940s Christian Dior movie. I loved the idea of the petals of a flower, so I brought in vintage and a modern approach and turn it into the look that was my final showpiece, featuring guipure lace and upholstery as well as layers of tulle. Who would have thought it would be me? " she said.
After all the fashion hype, it was time to spot the celebrities and what they were wearing.
The Vodacom hospitality marquee is always playing host to an array of celebrities. Spotted at the tent were Liezel van der Westhuizen and her partner, Mike Funnin, wearing Craig Jacobs designs. The purple, posh garments were inspired by Cadbury chocolate, Go figure! The celebrity queen herself, Jen Su, graced the event wearing a Pallu design. It was however a bit disappointing to see her wearing a rather, plain dress when she is the queen of Celebs, after all! However, the gorgeous Bonang Matheba from SABC3, rocked in a canary, beaded gown by Pallu. MEC Nomusa Dube looked elegant as always as well as Former Miss SA and businesswoman, Batsetsana Khumalo, in a Gavin Rajah creation. Isidingo stars, Vusi Kunene and Kgmotso Christopher definitely made an entrance as they entered the Vodacom marquee. Fans rushed to get photos with the on-screen couple, who thoroughly enjoyed the attention.
A Memorable and Historic Durban July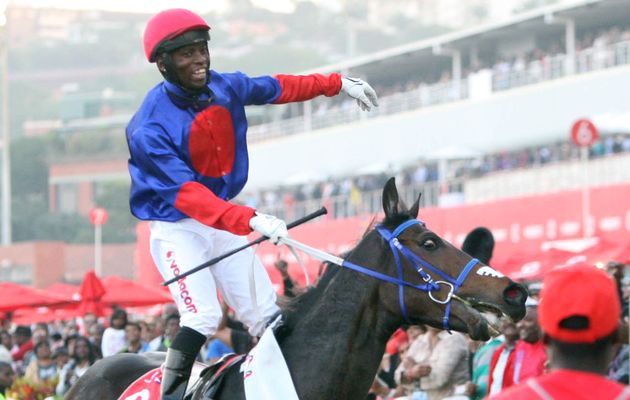 Gorgeous Lerato Kganyago from SABC 1, depicted sheer elegance in her gorgeous red gown. Absent from the marquee was Princess Charlene Wittstock from Monoco, much to the disappointemnt of guests. However, rocking the Sibaya tent was our very loved First lady Thobeka Madiba Zuma, who was wearing a creamy, yellowish lace, sheath dress. Miss SA Mariyln Ramos looked stuuning in a Michael Bezuidenhout creation with feathers and all. The powerhouse couple who played host to the first lady and other dignitaries were Vivian Reddy and his beautiful wife, Sorisha Naidoo. She looked from the 1950s era with her posh, cocktail dress ensemble from Haroun Hansrot. Also spotted walking around was the stunning Shashi Naidoo in a stunning red garment, making her way to the MTV marquee, Minnie Dlamini aimed to please in her white, Asanda Madyibi dress and sports presenter Robert Marawa looked dashing in a grey jacket. 
The Vodacom Durban July was definitely an historic one with the main race being won by Outsider Heavy Metal, with jockey Smanga Khumalo, making him the first black jockey to win such a coveted trophy.
After the day events were over, party revellers danced the night away at various hot spots in and round Greyville racecourse, whilst fireworks lit the sky. It was defintely a 'oh so posh' affair, indeed!
Article by Waheeda Peters
Who was your best and worst dressed ZAlebrity at the Durban July? Let us know 
on Twitter  or on Facebook!