With just over 19k Instagram followers, style teller, fashion blogger and a huge inspiration to many fashion friends, Tommy Lei shares some of his blogging tips and best memories with ZAlebs.
What inspired you to start blogging?
The need to explore the intersection of finding MYBELONGING [His blog] through my belongings (pun intended); to document and give meaning to investment items as opposed to just giving in to fast fashion trends (though sometimes I do, within reason!). 
 
Was it easy coming up with the name for your blog?
It was more or less an epiphany. For the longest time, I had thought about starting a blog but didn't know what to name it. When the name MYBELONGING dawned on me, I knew that was it. It wholly reflects my philosophy towards wardrobe curation and personal style. 
 
Which blogs do you read on a daily basis?
With the increasing saturation of fashion and personal blogs, my daily reads have gradually shrunk to only a few that still manage to captivate and inspire. In no particular order: Stop It Right Now, Andy Heart, Shine By Three, Garance Dore.
 
Give me a list of 5 bloggers who you met through blogging and are now good friends with?
One of the perks of blogging is the community, both local and abroad. I've met some great people and amongst them some fantastic friends: Stephanie of HoneyNSilk, Eugenie of Feral Creature, Jenny Ong of Neon Blush, Reinaldo of Reyal Fashion and Taye of Stuff She Likes. 
 
How did you choose a photographer to work with?
As a creative professional myself, I've been fortunate to be blessed with a circle of close friends, ranging from designers to photographers, whom I continually collaborate with. I typically look at the way they compose their photos and if it aligns well with my more clean, minimal aesthetic. It's all about capturing the mood, in the right light and at the right place.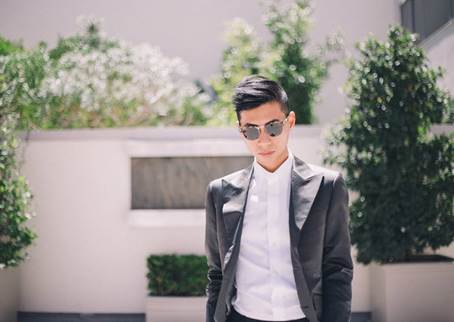 Which are your favourite brands?
 
Mostly high-end and emerging, contemporary designers: 3.Paradis, Acne Studios, Alexandre Plokhov Balenciaga, Balmain, Chapter, Common Projects, Damir Doma, Kao Pao Shu, LAPSE, LZZR Jewelry, Saint Laurent, Rad Hourani, Rick Owens and Yohji Yamamoto. 
 
In terms of fast-fashion, I have a soft spot for boohoo Man, YesStyle and Zara.  
 
Have you been able to build a relationship with them?
Yes, and I'm even more thankful for the partnerships that have developed into friendships. 
 
How did you go about this?
For the most part, these relationships have started organically or through word-of-mouth referral. 
 
What's the biggest campaign you've ever been part of?
I was one of five menswear influencers that was part of the SS14 Eton of Sweden campaign. Recently, I wrapped up collaborations with some lifestyle and grooming brands like Cupcake Vineyards and Clearogen as well. 
 
Message to fellow bloggers: 
There are too many clichés in this world - just do you.