What better way to start the week off than to read our interview with one of South Africa's youngest and most handsome actors who has taken the local entertainment scene by storm with not only his good looks and charm but also with his distinctive acting skills.  You'll have seen him act on Drama shows like SABC 1's Intersexions, SABC 3's Isidingo, the block buster Spud and most recently, the young, ambitious 'Oupa Mabaso' on  Rockville.  Ladies and gentlemen ZAlebs brings to you Lehasa Moloi.
Before we began with the interview, Lehasa apologized for his raspy voice due to him catching the flu (What a gentleman) and besides we didn't really mind it, as it added some sexiness to his already soulful silky-smooth voice.
Many have been impressed with Lehasa's mature aura but what a lot of people don't know about this 26 year old actor is that he is quite the playful guy. ZAlebs asked him if he ever becomes weary and nervous about being cast as in more serious roles;
"Well think of it like this, if you're not nervous about it then you don't experience the butterflies in your stomach clearly indicating that you're not in the right job, so for me I get nervous about every character I play.  Funny enough I've grown particularly nervous about my character "Oupa" because he's totally different from other characters I've become accustomed to, especially because he has a Kasi (township) background which is an environment I haven't been a part of since primary school. I'm accustomed to the age thing in characters my only weariness becomes the background of the character."
Adding onto his character range we asked Moloi about his most daring and shocking role as "Thulani" on Intersexions where impregnated his sister in law who had issues baring a child with her husband Lehasa's on-screen brother.  ZAlebs picked his brain a bit and asked if he'd ever do such in real life.
"Definitely not, especially if the request was from my sister in law, I'd just turn down the request immediately and approach my brother asking if he is aware of what has been requested from me. It's a tough situation to be in but I believe there's other means of having a child, adoption is one of them so I don't think I'd go to such drastic measures to ensure that our family name is sustained."
There's no doubt that Moloi is a hit with the ladies hence him being our crush of the week, we also wondered if Lehasa has ever experienced awkward gestures from ladies especially considering that he is unavailable.
"I wouldn't say it's an awkward gesture but I've had people approach me to take pictures with their babies which is a bit weird for me because I would never do that with my child. [Laughs]"
Now, this was quite a co-incidence because the day before we spoke to Lehasa, we had actually interviewed his girlfriend (sorry ladies,) actress and screen writer, Cleo Rinkwest. They've been spotted together at many events looking like a match made in heaven. ZAlebs took the opportunity to find out if the hot couple actually dress each other when out and about in public.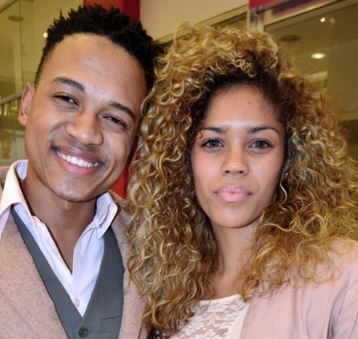 "It's never a planned thing, we both have a team of people who help us out with things like presentation, and just how we present ourselves to the public.  We hardly discuss such I think it would be just too much for us, we keep it real, we like simplicity in our relationship."
Catch Lehasa Moloi every Wednesday on Mzansi Magic's weekly drama show Rockville