TV and media personality
Lerato Kganyago,
ranks among Mzansi's most loved and talented public figures. Besides radio and TV, the beauty also dabbles in business and deejaying, and everything she touches turns to gold.
Lerato is celebrating a huge milestone in her marriage and we are here for it. Two years ago, she married the love of her life in
a traditional ceremony
and the couple is still going strong.
When they got married the couple managed to keep their wedding celebrations low-key. It is no secret that Lerato has mastered the whole "keeping it on the down low" thing and prefers to hide her husband's face when posting him online.


The stunner is married to wealthy businessman
Thami Ndlala
and she is totally smitten with him. Taking to her Instagram to celebrate their 2nd year wedding anniversary, she hinted that they might have a white wedding soon and we cannot wait.
"2 years today with my other half, now that we are understanding what marriage is I can't wait for us to celebrate with our white wedding. Never ever thought my surname would change on my still looks weird lol. I promise to continue protecting us and what we have because you do the same. Love you and Happy anniversary Bunzee," she wrote.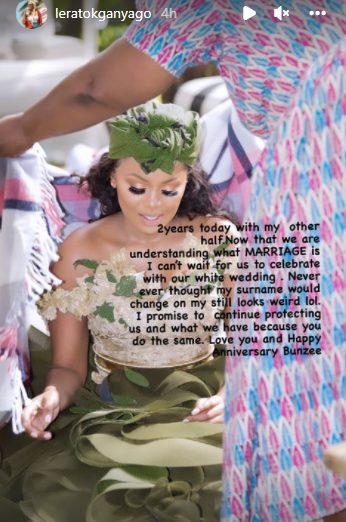 The couple has had quite the rough patch in their marriage journey and they have remained stronger than ever. In 2020, Thami made headlines for the wrong reasons. This follows after he was accused of
allegedly having two identity documents;
one indicating he was born in 1988 and another indicating he was born in 1981.

It is reported that Ndlala misled numerous retired people into investing with his forex trading company, saying he would make them a lot of money. He also allegedly lied about owning a house in Sandhurst and Hyde Park, two of the richest suburbs in Johannesburg. As if that was enough, Thami is said to have fathered 3 children and Lerato was not aware of this.
"These allegations are devoid of all truth. I find it curious that people wish to remain anonymous. It seems to me like a further attempt to slander my good name. There are legal procedures available to all citizens if they feel money is due to them.

"No such legal documentation had been served on me. This seems like a failed attempt to litigate and the media has become a forum for such litigation for the cowardly faceless who seek popularity," he had said at the time.


The couple is known for pulling out all the stops every year on Valentine's Day. In 2020, Thami booked FNB stadium for their Valentine's celebration and arranged for Zonke to perform there.


This year on Valentine's Day he bought her a
hotel, with a spa
called Amour (French word for Lerato). Lerato was also gifted a brand new Mercedez Benz G Class Brabus. The vehicle costs between R5-R7 million in South Africa.
Image Cred: Twitter