After what felt like a lifetime between the ending of season 4 and the beginning of the brand new season 5,
Lockdown
is back with an explosive new season and the rules have changed for everybody at Thabazimbi Women's Correctional Facility.
Not only is the latest season set to feature talented fresh faces, new locations and more riveting storylines, but for the first time ever the upcoming season of
Lockdown
will be released
exclusively on Showmax
(having previously aired on Mzansi Magic) starting with the first three episodes on the 30th of January 2020.
Who's going to be binge-watching with us? And if you don't have
Showmax
, yet good news my fellow bingers -
Right now you can sign up for Showmax mobile and get full access to the full catalogue on one mobile device for R49PM. Vodacom customers can get Showmax mobile plus 2GB data for R99PM.
The new year has brought with it a fresh buzz around one of Mzansi's most popular television dramas. Set in the grim and grimey prison yards of Thabazimbi Women's Correctional Facility,
Lockdown has had viewers on the edges of their seats
for over four years and now the show is about to give its loyal fans a one-of-a-kind experience with the upcoming fifth season.
Lockdown is famed for boasting a powerful
, all-female lead cast and the roster will be even more impressive for Season 5. While the likes of Pamela Nomvete, Lorcia Cooper,
Dawn Thandeka King
and Natasha Thahane will all be returning for the newest season, they will be joined by a veteran actress who needs little introduction to the South African masses in
Sophie Lichaba
.
The ex-
Generations
star will be playing the role of Palesa, the head nurse at Kgotsong Asylum and by all accounts, she can't wait.
Speaking to the press in a statement Sophie teased what we can expect from her character when she said,


"Palesa's a broken woman who's been through it all. She's so broken she will do anything to feel better, even if it's not right."
Viewers caught a first glimpse of Sophie as Palesa in the first official trailer for
Lockdown Season 5
which was released on the 15th of January 2020.
Take a look below: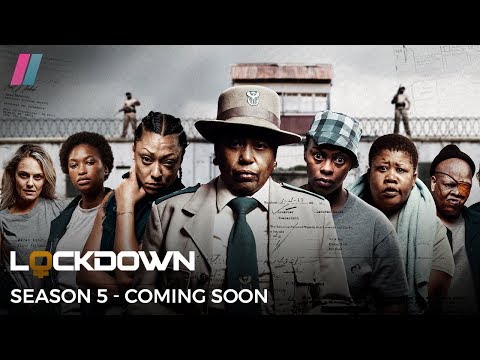 The fourth season of
Lockdown
can only be described as an emotional roller coaster. Viewers were left breathless after each episode as the cast took the storyline to even greater heights than ever before.
Tyson made a grand return to Thabazimbi, much to the dismay of her enemies, and she wasted no time in staking her claim as the jail's queenpin. Throughout season 4's drama, she proved to be a thorn in the governer's side. Meanwhile, her age-old adversary MaZet found herself near-helpless following a lengthy stay in hospital before she made a return to prison.
Wheelchair-bound and weaker than ever, MaZet was grateful to know that the people she had helped in the past had sharp enough memories to return the favour but she still had to keep watching over her shoulder.
In the end, MaZet reminded viewers that even with limited physical abilities, and even when prison officials and prisoners alike were gunning for her life, she could never truly be counted out.
Now, with season 5 set to pick up where the story left off, we are all burning with curiosity as to who is going to assume control of the prison and whose life will be lost next. Predict the storyline at your own peril!
"The storyline has changed a lot because now it's a different audience. It's going to air on Showmax and the producers have made sure that it's more thrilling. They have introduced new locations like Constitutional Hill and new characters like Sophie Ndaba Lichaba. So it will be action-packed and a fresh start for the new audience."
Read ZAlebs full and exclusive
interview with Zola Nombona here
Meanwhile, the show's director Mandla N spoke in glowing terms when he previewed the upcoming season. He praised the realistic portrayal of the South African prison system in the show when he said in a statement:


"Authenticity is everything. Prison is a gritty, dirty, grungy world and we can't glamourise that. So when you see the ladies in prison in Lockdown, you think: 'This person could give me a run for my money."
The first three episodes of
Lockdown Season 5
will be available for streaming
exclusively on Showmax from Thursday, 30 January 2020
.
You can watch two episodes every week thereafter before a live stream of the season finale on Thursday 27 February 2020. After that, the whole season will be available to binge!
You can also join
ZAlebs
by binge-watching each batch of episodes and keeping up with our live commentary on social media by tagging @ZAlebs and
@Showmax
. We will be live-tweeting episodes 1 - 3 on the 30th January 2020 from 7 PM CAT - 9 PM CAT!
To celebrate the premiere of Lockdown S5, the first episode will be available to watch on Showmax's YouTube channel from
20:00 on Thursday, 30 January 2020
. The episode will only be available for a limited time.
But wait, it gets more interesting! Lockdown cast member and SAFTA nominee Zola Nombona, who plays Monde, will be available from 20:00 on live chat, watching along and chatting with Lockdown fans during the premiere!
Just go to this link to set a reminder to watch the jaw-dropping first episode and join the live chat. And have your burning questions for Zola ready!
Want more?
The first three episodes of Lockdown S5 will be available on Showmax from 30 January
, with two episodes coming weekly thereafter for a further three weeks. The finale will stream on 27 February 2020, and then the whole season will be available to binge.
If you haven't joined the Lockdown craze yet, watch the
first four episodes of Season 1 on YouTube
, and then binge right up to the end of Season 4 on
Showmax
.
Lockdown S5 is exclusive to Showmax. Not a subscriber yet? Go
here
to find out how to sign up, and remember first-time subscribers are eligible for a 14-day free trial.

HOW TO GET SHOWMAX:


Sign up for
Showmax mobile
and get full access to the full catalogue on one mobile device for R49PM. Vodacom customers can get Showmax mobile plus 2GB data for R99PM.
New customers get a 14-day free trial and then pay R99 per month for
Showmax's
standard plan.
DStv Premium subscribers get Showmax free - go to
showmax.com
to sign up. DStv Compact and Compact Plus subscribers pay R49pm.
Read more here from Showmax:
Our exclusive interview with Zola (we loved her.)