Comedian Marc Lottering has been a busy man of late. When he isn't hosting SABC 3's Strictly Come Dancing, the comedian is putting a smile on the faces of less fortunate children. He's been heavily involved with the Reach for a Dream charity lately, most notably with their Reach for your Slippers campaign. ZAlebs spoke to the comic to find out a little more about his involvement.
Mr Marc Lottering, Welcome to ZAlebs it's a pleasure to have you. You're one of the most recognizable faces in SA, and now you're working on the Reach for your Slippers campaign. Please tell us how you came to be involved with it?
The people at Reach For a Dream invited me to come on board.  It was easy to say yes, 'cos they're very nice people.
Tell us more about this campaign?
South Africans are encouraged to purchase a R10,00 sticker which would entitle them to wear their slippers ALL DAY on Friday 2 August 2013.  The money raised will go towards the upliftment of South African children who have life-threatening diseases.
You've made a career out of making people laugh; Reach for a Dream aims to put a smile on a child's face; are you two a match made in heaven in your eyes?
Sure, the idea appeals to me.  It makes me very happy when people around me are happy.  I think this planet will be a cool place if we all operated like that.
We live in an era where whenever Celebrities try to get involved and give back to communities or children, people often cite "Publicity Gains" as stronger motivation for their involvement than actual concern. How do you react to people who say "Marc Lottering is just doing this for the publicity?"
It really does not bother me should anyone be critical of my involvement in the project.  If I can get one person to wear slippers on 2 August, and if I can get that person to have a discussion with a friend around the slipper day campaign and have those people become ware of children with life-threatening diseases, then I have succeeded.
What is the most rewarding aspect of your involvement with Reach for a Dream?
The knowledge that I'm making someone else's life better.  That really is what life's all about.
Your involvement in the Reach for a Dream campaign comes at a time when you're also hosting the newest season of Strictly Come Dancing as well! Do you have any free time right now?
I have not "not been busy" for as long as I can remember.  The concept of Free Time is a weird one for me.  I think it's better, for everyone's sake, that I am kept occupied.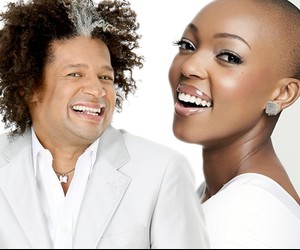 How has hosting Strictly with Pabi Moloi been so far? 
Pabi Moloi is as calm and sweet and smooth as honey!  Both on and off camera.  I am totally chuffed that we are working together.
Do you dance yourself?
Yes.  On a Sunday afternoon.  In my lounge.  After a glass of wine.
How did you feel about people spreading emails citing you as the author (Thinking about the "Why Coloreds Can't Be Terrorists email")
Now you see, THERE'S an example of someone who has too much "free time".  Not much to say on this really, except that it's sad.
Lastly, if people want to get involved with the Reach for your Slippers campaign, what's the best way to go about it?
Most importantly, BUY YOUR STICKER!  And then, clean your slippers for Friday 2 August. Stickers are available at all Hirsch's stores countrywide from Monday, 1 July 2013. Alternatively, visit the "Reach For Your Slippers" stand in front of the Totalsports store in the Tygervalley Shopping Centre from the Friday, 26 July to Friday, 2 August 2013 or contact Genevieve at +27 (0) 21 555 3013 or [email protected] to order.