When we're taking a break from bringing you the hottest entertainment news on the local scene, we are giving you the latest films to drool over. As you know, every week our chief movie critic, Andrew Campbell, brings us his DVD choice for review. This week he's bringing us his take on the movies Oz: The great and the Powerful, starring the amazingly talented (And sexy!) James Franco. Do you think it's a film worth watching?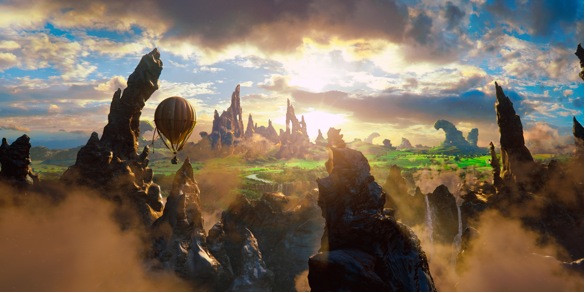 What's the story?
Magician Oscar Diggs (or Oz) is transported from Kansas to the Land of Oz, where he is taken for the wizard who is prophesied to save everyone from a wicked witch. The sisters Evanora and Theodora send him on a deadly quest, which brings him into contact with Glinda. But is all as it seems in the land of Oz?
Who's in it?
After appearing in 127 Hours where he had to give up an arm, James Franco was probably ready to give up an arm and a leg to star in a movie like this… he plays Oz, the wonderful magician (or the great and powerful to stick to the movie's title). And then we have 3 witches, all played by some of the prettiest leading ladies around: Rachel Weisz (The Constant Gardener), Mila Kunis (Black Swan) and Michelle Williams (My week with Marilyn). Zach Braff from TV's Scrubs has a very small part as a real person, but he also voices Finley, the monkey with wings. Yes… a monkey with wings.
Who's the director?
Sam Raimi, who, after 3 Spider-Man movies decided he needed a lycra-less hero.
What will you remember?
The magic of the movie itself… you're literally transported to a whole new world… one that makes you forget about debit orders and the Zim elections for almost two hours.
What's the best scene?
There's a very touching scene where Oz comes across a small china doll whose legs have been broken in an attack by a bad witch… and then he uses magic (actually, just glue) and fixes her.
What's the best line?
Oz: "I might not actually be a wizard."
Glinda "Yes, but they don't know that."
What other movies does it compare with?
Alice in Wonderland, Jack the Giant Slayer.
With what piece of information can you impress your friends?
Robert Downey Jr. and Johnny Depp were both offered the role of Oz.
What type of …………………………… would this movie be?
Car: A Ford Focus ST in one of those luminous colours.
Animal: A chameleon… very colourful.
Kid at school: The rebel who wears bright coloured socks instead of school socks or non-regulation hair bands.
Toy: This would be the long-lasting batteries in any toy really… providing a feel-good energy injection.
Famous person: Madonna… completely reinvents herself every few years and still fresh.
What did others have to say?
Visually, Oz the Great and Powerful delivers in 2-D and 3-D. The color is scintillating and the CGI is used to good effect to represent a technological update to the look and feel of the 1939 film without tarting things up too much. www.reelviews.net
Mila Kunis gets a gold star for excellence in bewitchery and Sam Raimi can settle securely behind the curtain as a mature master of illusion. Empire Online
His Oz isn't a hard, sophisticated place for wisecracking adults, it's a land of clever, inventive goodness and heartsick, sad-eyed dolls, grumpy munchkins and con artists learning how to use their dubious skill sets to turn wrongs to right, relying on cliches here, yet trading in warm-hearted joy much more frequently. www.movies.com

RATING: 6.5