I'm worried about my colleague. See, he's in love with Boity Thulo. Today, rumours have been making the rounds that Boity is engaged to comedian, Eugene Khoza and that the two who are apparently dating, have kept it a secret for months. As soon as I heard this, I gave him a call to see if he's okay.
He hasn't answered... 
In the meantime, Sunday Sun were the first to spark this rumour and they've dedicated a lot of space on their back page to this story. According to their sources, the two have been engaged since late 2014 and have kept it a secret since.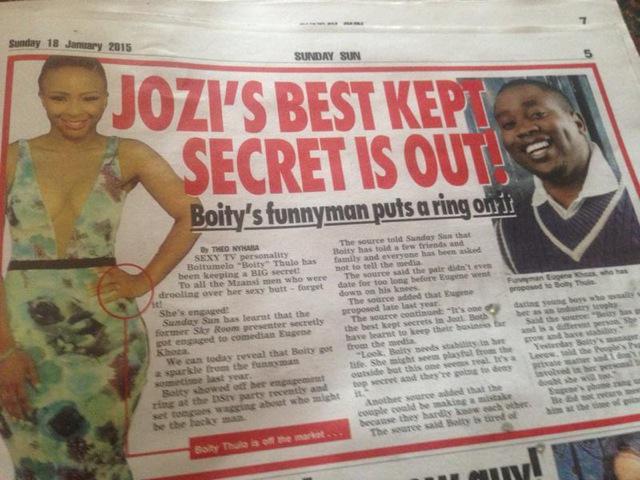 I remember particularly, while all of us were talking about Pam Andrews and Denise Zimba's outfits, Boity was making a quieter entrance at the Channel O African Music Video Awards.
She was also sporting a quite shiny looking ring on her left hand. Sunday Sun's article image looks like a photoshopped version of that picture, but it's safe to assume that that's around the time the paper is alleging the engagement took place. 
Wait, isn't Eugene Khoza married?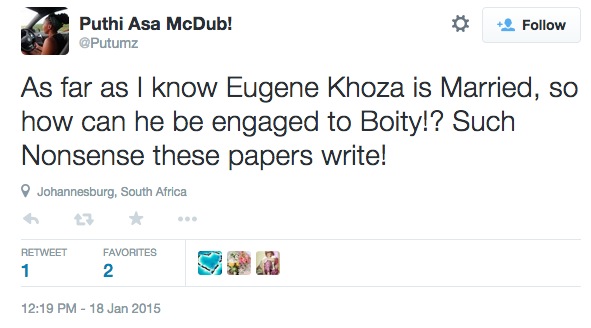 We did some digging, and the only mention of his ever having been married is a story from the Citizen, in which Eugene denied ever having been married, and therefore clarifying that he couldn't be guilty of cheating. In that same story, one of the Citizen's sources claim that Eugene has been married to a woman named Lerato since 2008, with whom he has a child. 
He denies this flat out and there's no other evidence suggesting he's married, so it's probably safe to rule that out right now. 
So, back to Boity and Eugene, are they engaged? 
At this point, (I.e, before official confirmation,) the only real answer you're going to get will either be a lie or an opinion. In MY opinion, I don't think they are engaged. In fact, before today, nobody had ever mentioned that Boity was dating Eugene Khoza, so I'm finding a little hard to believe. 
It's just that darn ring. That's the only thing we're struggling to figure out! What other explanation do you think there could be?