Apologies to the entire male population, Ciara has officially been taken.  The "Overdose" singer seems to have a very bright Future ahead of her as it emerged last night that she's engaged to rapper boyfriend-turned-fiance, Future (Excuse the earlier pun). It doesn't hurt that she's now rocking a sparkling 15 carot-diamond ring that the rapper gave her upon proposing.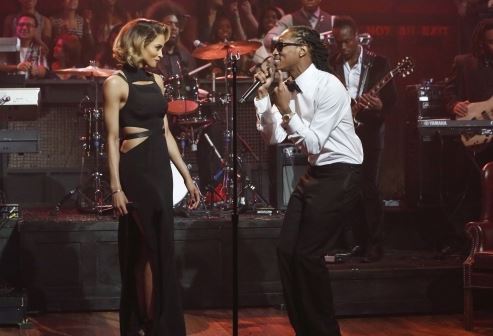 This might just be us, but it does seem like rappers have taken Big Sean's cue after the Detroit born rapper announced his engagement to his girlfriend actress Naya Rivera. Every other week since then has seen a rapper proposing to his girlfriend.  This is obviously great for the ladies because it does show that men nowadays are actually keen on putting a ring on it, right ladies?
Just last week Kanye West proposed to Kim and now raspy voiced rapper Future has popped the question to his "Body Party" girlfriend Ciara.
The celebrity world is obviously delighted to hear the news; we just hope this lasts for more than just a couple of months or years.
Ciara took to Twitter yesterday in what we'd consider as a very "I am engaged and so happy" tone.  And like the typical guy that Future is he stayed clear from tweeting anything about the engagement.
If I'm Dreaming I Don't Want To Wake Up..Aaaaaahhh!!!:)

— Ciara (@ciara) October 27, 2013
Do you think Ciara and Future will make a good married couple? Leave us your thoughts in the comments section below.