The twins, Innocent and Millicent pulled a number on us. Over the weekend, they revealed that they were pregnant but didn't really disclose who among them was the one expecting. After taking to YouTube to delve a bit more into the pregnancy, they gave us the impression that Innocent Sadiki, who stars as
Sthoko on Skeem Saam, was the one expecting.
Turns out it was
her sister Millicent
who is the one that is actually pregnant – for a couple of months now it seems. Six to be exact.
Read More:
Another Skeem Saam Actress Is Expecting
"6 months ago God put a big smile on my face. We are happy to announce that we are expecting our 3rd bundle of blessing. I feel so blessed, to God be the Glory," she confirmed the exciting news.
Milly also gave a special shout out to her twin boys who have been supporting her throughout her pregnancy and treating her like a Queen.
"Say Hello to the newly appointed Big Brothers. My boys have made this journey so beautiful, I am treated like a queen. God has really blessed me with the most loving & affectionate children. It was a pleasure for me to say YES to their request for a younger sibling." She posted on social media.
Speaking at her gender reveal, she said that she didn't create any expectations about the gender of her child even though everyone wanted her to have a girl since she has two boys. She just wanted the moment to be real.
"Honestly I didn't create any expectations. Because I really wanted the moment to be real. Whether it's a boy or a girl, I wanted to be equally happy because a baby is a blessing." She said.
At the end of the video, she expressed how happy she was and revealed that her husband was the happiest man in the world.
"I enjoyed my gender reveal. I enjoyed my day. It just feels like I literally just found out that I'm pregnant. And my sister made it so special. I'm so happy that my husband is happy. Honestly, I just feel like when you have two boys, you must have a girl. So they had that thing and I didn't really like it. So for me guys, it was like, even if I had a third boy I'd be okay."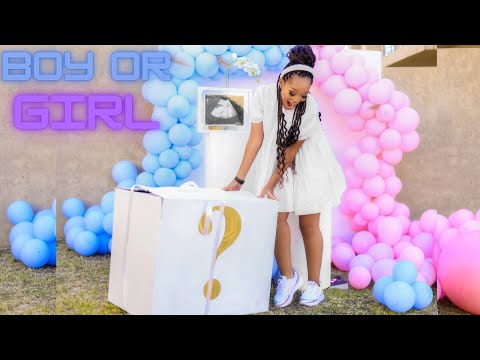 Taking to social media, the actress said that God has answered her prayers. A baby girl is what she prayed for following the birth of her twins.
Skeem Saam's
Innocent Sadiki
expressed her excitement at the fact that a fifth member is joining their family soon. "And just like that… we will be parents again. Baby #5 our family is growing. We are so excited for our baby girl. She is loved so much & she's not even here yet!" She said.
Main Picture Credit: Millicent Mashile Instagram Account
Read Next:
Sonti From Skeem Saam Becomes A Pastor