However, Sni recently found mainstream notoriety when she put her long-term boyfriend on blast. This is as her boyfriend in question was none other than
Black Door
leading actor
Zamani Mbatha
. As
reported
at the time:
Zamani Mbatha's ex-girlfriend Snikiwe "Sni" Mhlongo is trying to come to terms with Zamani's betrayal after he allegedly cheated on her with another girl.

Also Read: Zamani Mbatha Resurfaces After Sni Cheating Scandal

The YouTuber and social media influencer took to Instagram to open up about how she is coping following the cheating scandal. She posted a heartbreaking Instagram story in which she suggested that she was dying.

As she reflected on the past few days, she said she was trying to pick up the pieces and thanked everyone for their love and kind messages since she exposed Zamani's cheating.

"I'm d*ing. I don't know how to be better and start showing up again. But this is me trying. Thank you for all the love and kindness you're sending. I really do need it and receive it. Thank you. Here's to picking up the pieces," she wrote.
At the time of the scandal, Sni was not posting any vlogs and even her presence on Instagram was not as active as she used to be in the past. As such, Sni has marked her return with a vlog sharing her rationale about the events leading to her exposing Zamani.


Sni Mhlongo addresses exposing Zamani Mbatha's cheating scandal
After two months of not being active on YouTube, Sni returned with her first vlog since exposing Zamani Mbatha. As such, she aptly titled the vlog coming back to self. Firstly, she admitted she has not picked up her camera or "worked" since the scandal.


Moreover, she went on to address her decision to expose Zamani by sharing:


"With regards to everything that happened on the 1st of f*king March… Uhm, I don't think there's much else to say (translated from isiZulu). It is what it is, it was what it was (laughs)… And (I) appreciate everyone who recognised how out of character that was (of) me posting something like that was, and therefore kinda put two-and-two together that ukuthi, "oh sh*t, she's actually mezzed up right now…

"Cause that really was the case, I was going through it (translated from isiZulu), and damn it was tough… (Deep sigh) I'm literally shaking right now… I definitely had no intentions of anything I was posting to go beyond my platforms. I was posting for my audience… But obviously, this is the internet, so I had no control how far it got, and it got waay further than I could have anticipated…"
Sni late in the video shares that her only concern now is her safety following the viral video of her meeting up with Zamani outside her apartment block. This is as she believes that her life might be in danger as her security might be breached now that social media was speculating about her address.
Watch the full vlog below: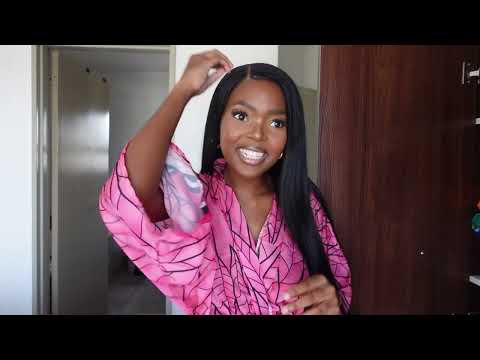 Image credit: Supplied