Despite the Khuli Chana and Chris Brown news that is dominating local entertainment news this morning, we cannot forget to mention the spectcular episode of  SA Idols  that took place last night.  The top 6 contestants of Seaosn 9's Idols spectacular gave off what is widely considered as one of the best performance nights in SA Idols history on a 'Showstopper' themed night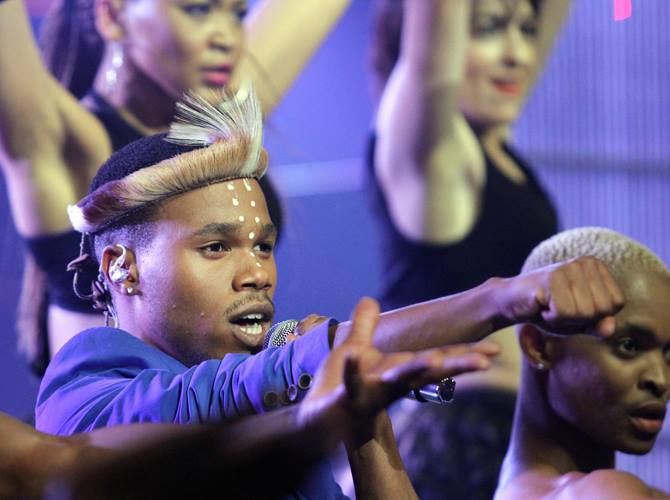 Strong favourites, Sonke, Musa and Zoe didn't hold back and managed to dramatically exceede all of the judges' expectations vocally and with their 'Showstopping' choreography.  The Moreleta Park Church Auditoruim in Pretoria was treated to an energetic group performance as the top 6 contestants gave their rendition of the Fall Out Boy hit, "My songs know what you did In the dark". They teamed up with this week's mentor, SAMA nominee, Chiano Sky.
The first showstopper was one of the public's favourite Sonke Mazibuko who performed an outstanding version of Mafikizolo's 2013 hit single "Khona".  The performance climaxed to astounding heights when choreographer Somizi joined Sonke on stage for a quick duo dance off which had the crowd erupting in excitement. 
"I really believe that was visually and aurally spectacular," Idols Judge Gareth Cliff praised. "You were terrific man."
Unathi Msengana complimented Sonke on his fitness level hollering "ufit brother, ufit!" (You're fit brother, you're fit)
Zoe Zana was in her elements as she performed Jessie J's "Wild" we think we saw a trace of Beyonce's alter ego "Sasha fierce" living through Zoe's performance. 
"Obviously some performers look forward to the Showstopper episode more than others.  You were glorious." Randall said to a delighted Zoe.
Musa Sukwene known as the gentle giant, charmed the crowd, starting off his performance with the original 1980's version of "Via Orlando" originally sang by Morna & Son.  He picked up the tempo when he fast forwarded to the present with DJ Mahoota & Vetkuks 2012 version of the song. 
Even though Musa didn't dance much he surprised us with his Dr Malinga leap but we're glad he kept it authentic Musa-style.
"You were really, really great.  This is you; you're a genuine guy, a very authentic performer." Said Gareth.
Unathi applauded the fact that Musa honoured the original version but also keeping it more current with the new version
South Africans have a very difficult decision on their hands as all top six contestants gave their all last night.  Who does your vote go to, this is really tough one.