Two weeks ago ZAlebs attended the Heineken Dropped send-off Lunch to meet the four contestants who were in line to be dropped at various undisclosed destinations for a week and if you've been following @Heineken_SA you'll find out that the campaign was quite an adventure for all four contestants.  However, as the saying goes there can only be one winner and that winner as you may know by now is secret foodie and family man Simon Good. 
We caught up with Simon to find out how it feels to be crowned South Africa's ultimate Heineken traveller with a handsome traveller prize worth R40 000 as a reward.
When you landed at your destination did you really hope it was South America or did you already know, from experience?
Yeah, my initial hope was landing in South America purely because I think it's such an exotic place to visit and it's one of the places I've never visited before.  However, when landing in the UK one thing I was most grateful for was the fact that I wouldn't face any language barriers. For the lack of a better term, everything was cushy for me with and you tend to enjoy yourself a little bit more if you visit a place where you understand each other with regards to language. 
Whilst in London you participated in many challenging tasks, which one of those tasks would you say was the most difficult one and why? Without a doubt the busking, honestly I have a whole new respect for people who do that for a living.  We did alright in getting the task done financially but it was not an easy gig at all, I actually tweeted that I now have this whole new respect for busking acts and I'll never walk past them again.  A lot of people just completely change when you're such an act and they just ignore you completely which took me aback a bit but then again I suppose busking is considered professional begging but in all that madness I just decided to ride with the waves by just making an absolute fool of myself really, it was more of a comedy show than a talent show really.
Do you still have your Heineken Crocodile?
I do indeed!! But unfortunately he's deflated now coming back my dog decided to sink his canine teeth in him.  He only survived two days of being an inflated crocodile but after that it was game over for [laughs]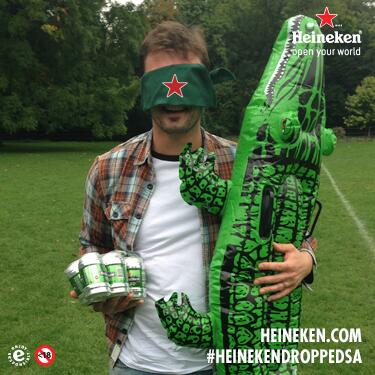 Out of the three other contestants you participated with, who do you think was the most challenging competitor?
I must be honest and say Baby Mashokwe was that one contestant who had me a bit nervous; she has the perfect personality to have when you're a traveller I think she's someone who finds it easy to just communicate with people and is able to get herself out of sticky situations if she were really stranded in a foreign country.  And when I found out that she was dropped in Paris I immediately thought that her personality and just the aura of Paris would be the perfect fit for her it was just like a hand and a glove, her being dropped their suited her very well and for me she posed as great competition to me and she did pretty well there.
Take us through the last challenge you guys participated in at the Heineken Experience building in Amsterdam?
We were taught the Heineken draft pouring experience where we learned how to pour the perfect Heineken Draft and that was basically the challenge I was pretty chuffed to do this challenge because I was a barman in my early years also so I was just pretty lucky to be taking part in that challenge and that's the reason why I also poured the perfect pint which lead to my victory. However I will admit that it was quite nerve wrecking because that was sort of like the deal breaker and what made me even more nervous was that a couple of important people from Heineken were also there including the professional bar man who was teaching us, so everyone was watching and the pressure to do well was high but in all it was quite an enjoyable challenge to do.