One of The Mother City's most plush shopping centres decided to create a unique concept in giving back to women, this Women's Month. ZAlebs reporter Clayton Morar decided to see what the fuss was all about .
In celebration of Cavendish Square's 40th birthday, which coincides with women's month, the award winning shopping centre decided to give back to their female shoppers by creating the world's first guilt free cupcake store - Guilt & Ganache.
"We identified that what most women struggle to deal with daily are feelings of guilt; whether it be about what they eat or how much time they spend at work or at home" said Cavendish Square's Marketing Manager, Tanja Gerber.
The campaign therefore takes shape in the form of a cupcake store, at which, women may confess their guilt, which is then placed on an edible tile and then on a complimentary cupcake, which they may then consume.
"Guilt and Ganache aims to empower women through the act of identifying their guilt and then eating it, before it eats away at them" continued Gerber.
The launch was attended by media and celebrities from Cape Town, with the likes of e.tv journalist Tanya Nefdt, Expresso TV stars Katlego Maboe and Leigh-Anne Williams as well as fellow Expresso hottie Ewan Strydom and Good Hope FM's Guy McDonald. Smile 90.4fm and Bravo! TV presenter Tracey Lange acted as emcee on the day.
For every person attending the launch, Cavendish donated R100 to local women empowerment charities, Rock Girl and Woman Zone. Guest speakers at the event included India Baird from Rock Girl and Nancy Richards from Woman Zone.
"We are thrilled that Cavendish Square selected Rock Girl as one of the beneficiaries for this unique event. Since 2010, Rock Girl has worked with a group of girls and boys in one of the most dangerous communities in the country, Manenberg. 
For many of them, their school is the safest place in their lives - inspired by these girls, Rock Girl has built art rooms, libraries, gardens, and safe space benches at the schools, and run weekly after school programs, and leadership camps for the girls and boys." said India Baird
"Woman Zone is an initiative designed to bring women from all of the Mother City's different communities, together. To get to know one another better, to share stories and experiences, work together, learn from each other – and above all to celebrate their past and present achievements, not their victimhood," explained Nancy Richards.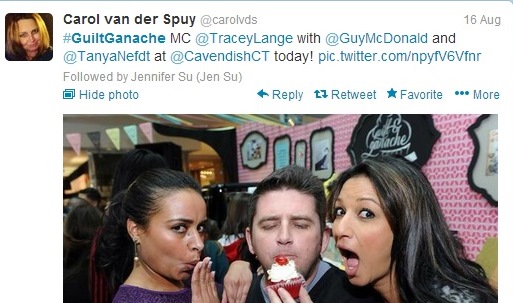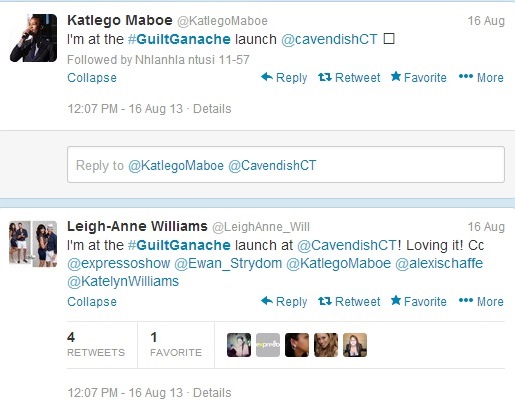 Cavendish will be supporting Rock Girl and Woman Zone by donating R1 for every shopper that participates in the campaign.
Guilt & Ganache will be situated on the Lower Ground Floor until 15 September.