Tweeps are certainly not buying what
rapper AKA
is selling. This comes after he took to Twitter yesterday to cry being hacked. However, some tweeps were also reminded that AKA has recently deleted some of his tweeps which has caused a conversation.
Read more:
"AWKWARD" AKA Gives Somizi A Death Stare After His Idols SA Perfomance
Following a backlash where another tweep was lambasting
AKA
for tweeting Elon Musk while begging him to come and save South Africa from its own power and financial shackles. The tweep went to elude that it was hypocritical of
AKA
, following his recent purchase of new electric wheels for 2 million rand.
"This is
@akaworldwide
one of the most stupid South African celebrity I ever came across How Yu goin beg
@elonmusk
to help South Africa with money for power and all of a sudden Yu buy yaself a 2 mil BMW Yu spend ya money on unnecessary things and ask someone to cover ya necessity?" wrote Matione Soul
AKA
has since apologized for his tweet to Elon Musk that was asking him to come and save Eskom when he recently bought an electric wheels that will need electricity to charge. However, when
AKA
was feeling the heat of being judged, his apology was followed by his outcry of being hacked.
"I apologise … sincerely" wrote AKA
Tweeps are calling out
AKA
for claiming he was hacked when some of his tweets has been deleted. The same tweets being the ones where he was bragging about the new electric wheels valued at 2 million rand.


"Apologies Megacy … somebody just hacked into my account tweeting about nonsense. Cars and companies and stuff … sorry you had to see that" wrote AKA
Tweeps have taken under his comments to calling out for lying about being hacked.
"Guys I want to address these rumors flying around. I did not buy brand new X7 M50i 2022 full spec... It's a company car. I am merely the driver" wrote AKA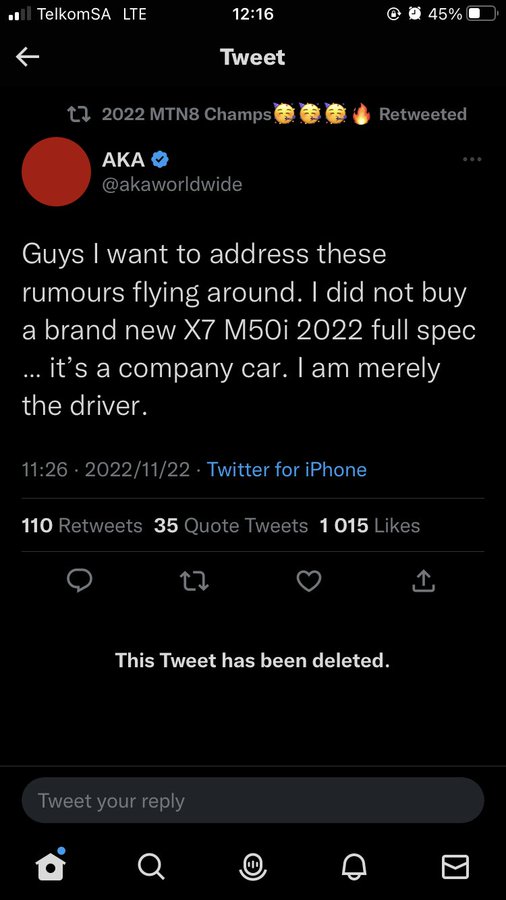 "Must be Elon Musk, guess his tired of you asking him to fix Eskom" wrote Ansley
"Don't lie" wrote Mr Smiles
"WAKE UP!!!! Lil Homie seems like you dreaming" wrote DMN4ever
"namanga wena" wrote Ndlovu Theseus
Read more:
Pearl Thusi Addresses Musa Khawula Allegations About AKA

Image credit: ANMG