A great year all round for Andile Ncube, he recently married the love of his life and a lady we'd definitely put in the top five most sexiest South African celebrity wives, alongside the likes of Gail Mabalane and Mbali Mlotshwa to mention a few.
Yesterday Andile received a wave of congratulations since revealing that he'd be the presenter of X Factor South Africa.  We caught up with the man of the moment to hear what he'll be offering South African audiences when the show airs in September
Hi Andile, firstly congratulations on being a newlywed as well as taking the title of Mr X Factor 2014
Why thank you guys, yeah man this year has been very good to me.
How long have you been aware that you'd be the host of the first ever X Factor SA?
I've known for about a month or so.  I know some people probably think that I've known for a while but it really hasn't been that long.
Talk us through the experience of when they approached you for the job?
Well I received a phone call from the producers and they informed me that they wanted to talk about something and that I wasn't allowed to tell anyone at the time.  
I was really keen to hear what they had to say, during the phone call they mentioned that they were looking at some people for this particular show that's about to air soon and my name just kept popping up in conversations.  Eventually they asked if I would be interested in doing such a show, I of course said yes.  I then received a second call from them requesting that I come to their studios for a presenter taping so their international partners could see who the producers had chosen and as they say the rest is history.
X Factor presenters are known for their sleek, tailored suits.  Is there a particular brand that will be making your suits?
We're going to be working with probably one of the best suit tailors out there – Tiger of Sweden,  they're going to be handling all of my suits; I just did a fitting with them last week so I'm really excited!.  As far as the suit game is concerned I don't think anyone is ready for what Tiger of Sweden has in store for the South African audiences, especially for all you men who love wearing a well tailored suit like me.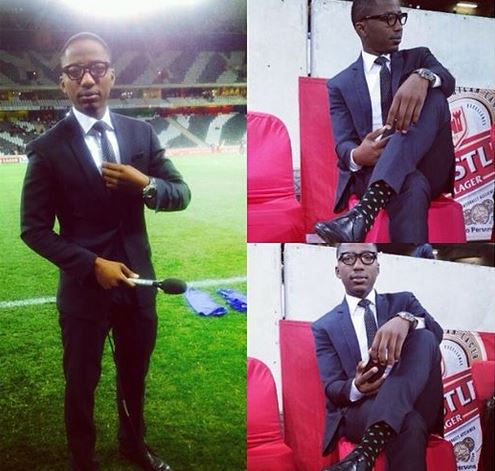 Some of our readers have complained that there seems to be an influx of these international shows.  What do you think sets X Factor SA apart from the other multiple talent shows that have been on our television screens?
I don't have a problem with international formats coming to South Africa, after all we are a part of the global trend and global community.  A couple of years back such things were so far-fetched but as the world's become smaller we're able to share ideas and shows like these.  However what I feel is important is how well we execute these interntional shows, will we meet the standards set by the U.S and the U.K? Yes, I believe we will, I've seen the production lay out and X Factor is going to be really impressive. 
I understand that people might complain about these internationals shows but think of it this way, we already had such shows way back in the likes of Shell Road to Fame and Jam Alley it's just that those formats have evolved to something even bigger and better and that's your X Factors and other talent shows we've seen in recent years.
Audition dates: 
- Durban- 7 June 
- Bloemfontein – 11 June 
- Cape Town – 14/15 June 
- Polokwane – 18 June 
- Johannesburg – 21/22 June 
- Nelspruit – 25 June 
- Pietermaritzburg – 28 June
X Factor airs on SABC 1 on the 6th of September.
For more online pre-registration/ audition submission visit their website: xfactor.sabc1.co.za)