35-year-old
Bonang Matheba
is one of South Africa's most decorated stars. Her list of achievements is endless, from owning her own alcoholic brand to being one of the most followed South African on social media, this
Bonang Matheba
's world.
A couple of years ago Bonang moved into her new home in Waterfall,
Midrand
. We found a rare video of Bonang on social media giving a tour of her luxurious home.
Along
Bonang
's staircase are all her magazine covers from over the years and images of her family and friends.
"I'm a visual person, I'd like to see them every morning when I wake up. You know walking through this gorgeous and beautiful, I don't even know what to call it," says Bonang.
Unlike her previous home, Lebonza wanted something different this time around.
"My previous home was soft, it was luxurious, and this is a little more hard. A little more concrete and edgy. And very very modern and contemporary – so very different from what I'm used to."
Interior designer Jess was responsible for the stunning design of the house.
"It's come together really nicely, we've used a lot of neutral tones and I'm very black and white Bonang is more in the colour and it's been a fantastic combination, Jess tells Jonathan.
Bonang's favourite part of the house is the fireplace. "I love it, my friends have sat here many times and have had many gossip sessions with me."
Now have you seen her beautiful garden?
"My little garden, small and quaint. I spend a lot of time here. I sit here every morning with a cup of coffee, and you can never tell I'm in Gauteng. It's so quiet, the air here is so fresh – I love it," she shares.
We hope you are patient because there's a lot more to see in this house.
The Pyjama lounge is one area of the house you'll find Bonang when she's "too lazy to go upstairs."
She has two additional bedrooms for when her girls come over.
The Master Bedroom
Bonang keeps her bedroom "very clean, crisp and pops of pink everywhere. And the view is spectacular. I wake up to this every single morning. That's why I'm always in a good mood."
B has a glam room where she readies up for going out. "I am super proud of this room. This is where I get ready every morning. And you know a lot of my shoots, interviews, appearances, I get ready here at home. So usually my hair and make-up team will come here," she adds.
Miss Matheba
shares how grateful she is for all that she has.
'Every single moment my heart is filled with gratitude. I am well aware that what I have I'm very blessed. I work very hard. I can never ever take what I have for granted at any given time. So, I do stop, especially in this room."
Her career highlights include her high-profile interview and trips around the world.
"Some of my highlights are impossible to say but the numerous celebrities that I have been able to interview courtesy of Top Billing and some of the wonderful places I've been to, the people I have met, the achievements, the awards but I think at the end of the day it's the ability to wake up every morning and do what I love."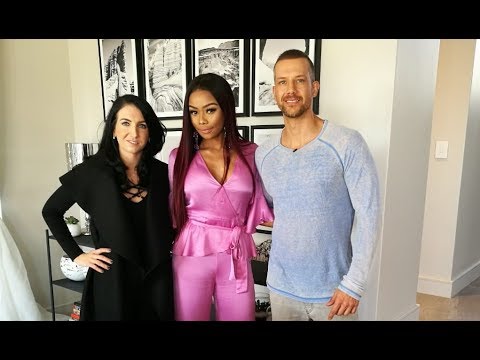 Main Image Credit: Bonang Matheba Instagram Account