She's written scripts for Mzansi's most loved Drama shows and it's clear that actress, Cleo Rinkwest, is one to watch in SA's local entertainment industry. Cleo fills us in on her new film and tells us how she deals with her own body image.
Hi Cleo, welcome to ZAlebs! Let's kick things off by discussing the film you are working on titled 'Girls with Curves,' what message are you hoping this film sends out to the public?
The movie is still a work in progress but I can't wait for people to see it because it just sends a lovely message that I hold dear to my heart.  To cut things short, the movie is about being in the industry that I'm in but more importantly being comfortable with whom I am and accepting one's self.  In this industry we deal a lot with the fickleness of beauty the movie is purely about self-acceptance regardless of skin colour and size.
You speak about image and acceptance, we would not have expected for someone like you who has perfect body and skin to be also battling with your image.
Yes it's a fine line because you get people who always get the leads, and then you get the typecast actors. I always tend to fall in-between. People might think I have it all, the curly hair, and the Hispanic look but then I also have a gap in-between my teeth. Don't get me wrong, I love my gap but the industry hasn't been very kind about it and I've been told that I need to close my gap, cover it up or just not smile.  All the unnecessary nitpicking can be a bit much.
Well you should get in touch with 5FM DJ Anele Mdoda and hold a "My Gap is Cool" Campaign in defiance!
[Laughs] That would be a cool idea! 
Many might not be aware of this Cleo, but you've also written scripts for local drama shows such as Soul City, Mzansi Magic's Zabalaz and Inkaba. Which of these did you enjoy writing for the most?
It's quite difficult to say or to even choose because every story is unique and I always leave my heart on the page so I'd say their all kind of equal in my mind but working with SAFTA award winning writers from the drama 'Soul City' was definitely a highlight of my script writing career.  Also 'Soul City' is one of those shows that have been running for years hence at the same time It was just an honour for me to be part of such a production.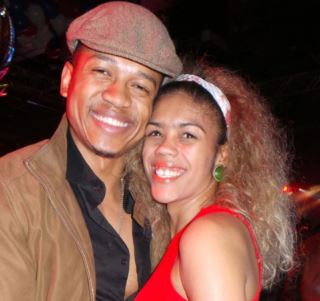 It was a big surprise when you announced to South Africa that you will be starring alongside Hollywood actor Samuel L Jackson on the new movie Kite set to be released in 2014. How do you feel about this? 
Being in the same space as the award-winning actor really really humbled me. I was taken aback by his humility and kindness towards everyone on set, Samuel L Jackson is really like "The Papa Bear on set" who makes sure the young cast was comfortable what they are doing.
We at ZAlebs always ensure we have the low down on all of the hook-ups in our local celebrity world. At events we often catch you with your handsome actor boyfriend, Lehasa Moloi. How often do you guys discuss work and help each other with tapping into new roles?
We don't really do it as much as people would think because before we met he was already a seasoned actor, but we do give each other advice that would add value to the new character roles we're set to play.
Cleo Rinkwest is definitely one actress and scriptwriter to look out for in the film industry.  Who knows she might even write a script for the next blockbuster movie!
Don't forget to follow us on Twitter and find us on Facebook