ZAlebs Reporter, Candice Meiring sat down this week to chat to
Craig Jacobs
, the fashion genius behind the brand,
Fundudzi
. Craig talks to ZAlebs about his upcoming summer collection, and he also gives tips to women on changing their attire without giving away too much of themselves. Let's see what he had to say! 
Craig, I just loved your summer collection at Fashion Week this year. You showed such subtle muted tones and light fabrics. A real sophisticated take on summer for 2013. Do you think we can finally pack away the neon?
Sadly I don't think neon colours are going anywhere, especially day-glo yellow when it comes to trend watches. But the Fundudzi by Craig Jacobs, takes more of a long term approach, and so we explored a more muted palette of whites, nudes and blush tones with a little dash of jade, cobalt and florals.
Fundudzi, prides itself as 'ecologically sensitive' or 'clothing with a conscience'. Can you elaborate on that and tell us what that actually entails?
People don't realize how harmful clothing is to the environment – let alone the damage it can do to your bank balance! What I am trying to do in my small way is to make people re-think the way they look at their wardrobe by firstly investing in pieces which will last for longer than a fleeting season, items which are carefully priced while remaining luxurious and original and finally, items which in some way make a difference to the planet. We really try to use as much ecologically sound fabrications where possible. I am committed to developing new fabrics with global suppliers in that vein as well, because the access to eco fabrics is not that easy. And when we use man-made fibres, we follow a more sustainable approach to manufacture – all our offcuts are often upcycled into new garments or embellishments, and we donate the rest at end of season pieces to various sewing circles and charities.
So you can rest assured that, when you purchase something from Fundudzi by Craig Jacobs, you are not only buying a timeless piece of luxury – but an item which is literally a piece of clothing with a conscience.
You have a real talent of taking a garment and turning it completely off it's axel into something modern and exciting. (For example your tuxedo shirt on Spree. Pure genius!) What tips do you have for women that need to transform their bland work attire into something modern and exciting or Craig Jacobs worthy?
Invest in pieces of good quality that fit well and have subtle details which reflect your personality. Everyone can buy a white shirt from a mass retailer or even a fast fashion store – but why not buy one which has been carefully designed to stand out from the rest of the pack and show you are a woman of distinction?
We all know the Fashion industry is a tricky business. You seem to have wrapped your head around it all with a well-established label, that's received international acclaim. What advice do you have for young Msanzi hustlers? 
Hone your business skills! To last long in this industry, you have to treat your label as a business and that means not cutting corners, investing in a good support system (my accountant is one of my biggest assets!) and not buy into the hype. All I do is make clothes, and hopefully I make those clothes well – fame and seeking out the limelight is transient because there is always a new star on the horizon who will take your place.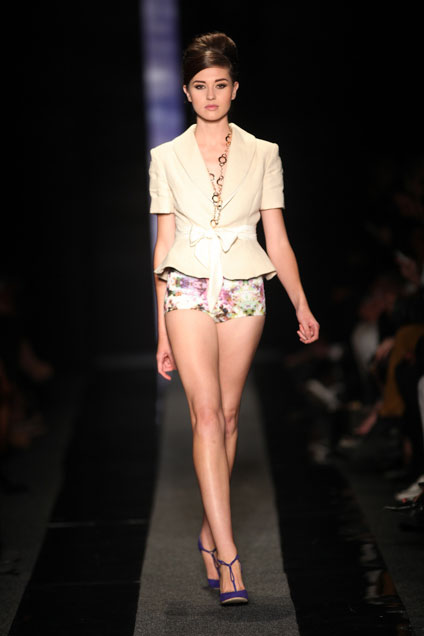 What have been you favourite trends of Winter 2013?
Our Fundudzi warriors know I am a big fan of hoodies – we have been doing them almost since the inception of the label in 2004, and channeling that sports lux vibe into our iconic cashmere hoodie dresses was a winner for the label. Another strong element for winter that we loved was the idea of wrapping, which I feel is a strong element of African traditional dress, and our wrap jerseys are another key piece which are lightweight enough to move from winter to spring (you can find them at Burgundy Fly in Maponya Mall and Rosebank, as well as Edgars X SA Designer Capsule at Edgars Melrose Arch and Sandton City).
What summer trends should we be sticking to?
The maxi dress is one of the biggest trends this year – our criss-cross maxi dress has just arrived in Edgars Sandton, and I think cobalt blue is another strong trend which allows you to add colour without going for all those pop brights.
Do you have any timeless fashion advice for ZAleb readers?
Your body type and your lifestyle informs what works for you. Following trends slavishly will mean you have to constantly update your wardrobe.
Who is your all time favourite designer?
I am a huge fan of Issey Miyake and Rei Kawakubo of Comme des Garçons for their texturing and silhouettes– and Katherine Hamnett for her ethical activism,
Who do you think is South Africa's most stylish person?
If you're life had a theme song, what would it be?
The song that keeps playing in my head is "7 Seconds" by Youssou N'Dour and Neneh Cherry.