Radio and television personality
Dineo Ranaka
had an intriguing conversation with her grandmother about her menstrual struggles and how she has never used a menstrual towel in her life. This is part of her new gig with popular feminine hygiene and menstrual towel company Lil-Lets.
Read more:
Lerato Kganyago Fights Period Poverty
The company has a new talk show called
'Lil-Lets Talk With Dineo Ranaka'
and they touch on all aspects of the female reproductive system. The talk show, hosted by the reality TV star touches on pregnancy and fertility as a whole as well as menstruation and the struggles women and girls face when they cannot afford such.
Many celebrities have always been vocal about making menstrual pads free and accessible to women and young girls. These include
Lerato Kganyago
and she invited many prominent people to join her virtual concert - including President
Cyril Ramaphosa
. Another ZAleb is Siv Ngesi who is extremely vocal about making menstrual towels free and accessible. He has slammed men who are not active on this chat.
Dineo is hosting a whole show and as part of her first episode she invited her grandmother, mother and Naledi to talk about menstruation. In that conversation, her grandmother revealed to her that has never used nor opened a menstrual towel in her life up until menopause. Whenever she would be on her periods she used her mother's nappy towels and would wash them often. Another alternative many women would use are socks and tissue paper.
Lerato Kganyago with the help of many prominent people held a successful concert called
The Period Poverty Benefit Concert.
It was a platform she, celebrities and other well-known DJ's, were using to put an end to period poverty. The virtual concert took place on the 5th, and the dress code was red to symbolize menstruation.
"Not being able to go to school or earn a living simply because you do not have access to sanitary pads is heartbreaking. This challenge can be so easily resolved.
"I hope that this event will help play a small but pivotal role in helping us all join together to fight period poverty, and therefore help young girls and women realise their dreams," she said at the event.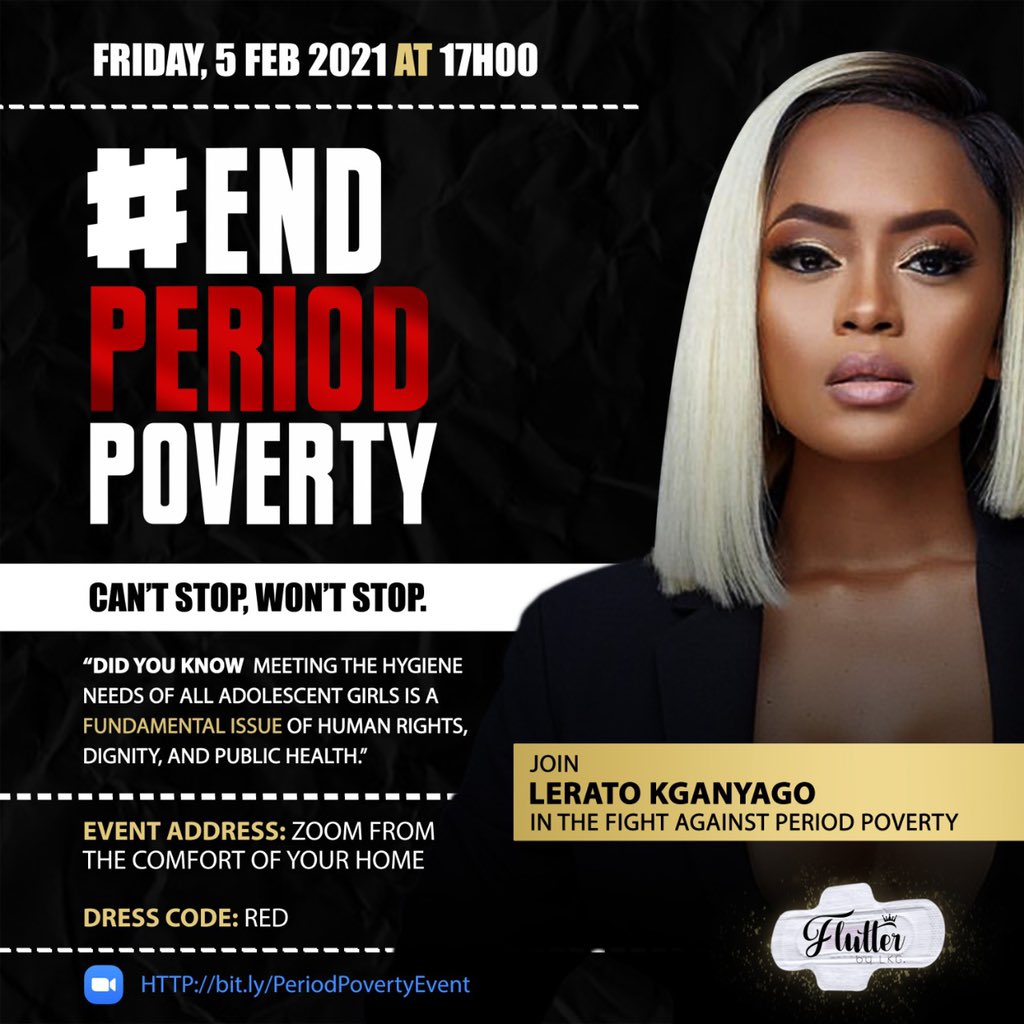 Not only that but
Lerato Kganyago donated sanitary pads to girls in different provinces
starting in Hammanskraal, Tshwane, where she gave away 200 sanitary pads to a non-profit organisation called Ubuhle be'Ntombi zeNgcuce.
Read next:
All There Is To Know About Sasa Klaas' Memorial Service

Picture credit: Instagram