Popular DJ Lamiez Holworthy has cautioned 20 something year Olds against the dangers of social media and applying unnecessary pressure on young people.
Reposting a tweet from a tweep who told 20 year Olds to stop acting rich for clout, Lamiez told people to take it easy and remember that social media is not a real place.
"This!!! I'ma need y'all to take it easy. Social media is not a real place. You're on the right track and it's okay to be figuring the life thing out. Zero pressure," she posted on IG.
This would not be the first time Lamiez sends out positive messages. The last time she did was when she motivated a young 20 year old on body positivity. The girl approached Lamiez asking for her advice on confidence saying she lacks it because of her weight.
Lamiez said, "So I had a 20-year-old lady text and say " I am 20 years old and thick AF with zero confidence- how do you do it?!"
"And my response was "I'm 30 with big legs, big thighs, cellulite, stretch marks, scars, and hyperpigmentation with A LOT of confidence, and here's why. I don't subscribe to society's ideologies on what "perfect" is. I am a real woman with real imperfections and still,I think I am perfect just the way I am. I'll be damned if I let social media and society to mess with my head and my heart. Little girl, YOU are enough."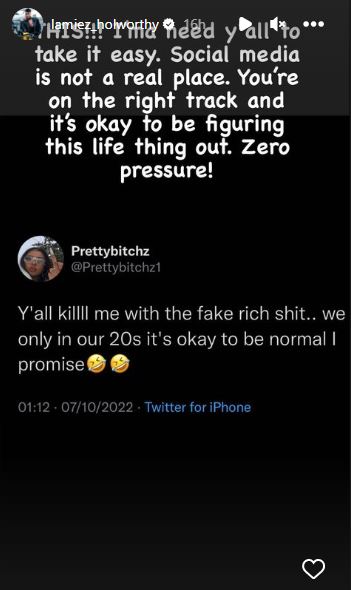 Lamiez often gets trolled for her boy shape but she always tells Trolls where to get off. "After reading the crazy comments under this post, I decided to use this opportunity to TEACH," she started off. "There's a reason why I didn't edit or use a filter to hide my thighs simply because...Dark skin on the inner thighs can be experienced by anyone, regardless of skin tone. It occurs when the skin on the inner thigh produces an abundance of melanin, a pigment that gives skin its color."
"This is called hyperpigmentation. The discoloration of dark inner thighs may even stretch into the bikini or groin area. Black child, it is perfectly normal and okay," she said before putting her trolls on blast.
"And to everyone else, before ong phaphela (before you become forward) or anyone else for that matter- ask yourself gore "Ke tsena kae" (what does that have to do with me?) I don't have a problem with it, so why should you????"
She recently gushed over her mother after taking 2 awards at the Basadi In Music award. But in her message, she had a little something for young girls. "I pray that little girls stop believing the hype on social media and see that hard work really does pay off. Sadly people put themselves under pressure based on the facades they see online. No one really shows or speaks about the struggles behind the scenes. And yes,there a few that get lucky and get their big breaks quick BUT that'll unfortunately not be the case for most. What is for you however will not miss you. Block out the noise and focus on your focus. As for me? My name is Lamiez Holworthy and I'm just a girl from Pretoria who refused to give up."
Image credit: Instagram