Flabba's death has left everyone in shock and disbelief. The Skwatta Kamp member was reportedly stabbed to death and the woman responsible has since been arrested, the SAPS were able to confirm. This news literally came out of nowhere, especially considering that a lot of hip hop fans saw the guy live on Saturday night. He even made an appearance on SABC1's Live Amp on Friday night! 
Fans and celebrities took to social media to share their feelings about the rapper's untimely death. Celebs including Dineo Ranaka, DJ Fresh and others were just as shocked to find out that Flabba had died as we were. It's never nice to start a week with such sad news and the celebrity reactions below made us even sadder. 
Nobody has tweeted as much as Dineo Ranaka right now. 

DJ Fresh also expressed his sadness on the social network

Also See: Why is Metro FM about to fire DJ Sbu?
YFM's DJ Mo Flava was just as shocked as the rest of us when he found out the news
Cassper Nyovest deleted his first tweet but returned with his tribute to one of his heroes.

Some people were sad because they had just seen Flabba performing at Axecess Jozi on Saturday. This was the rapper's last public performance.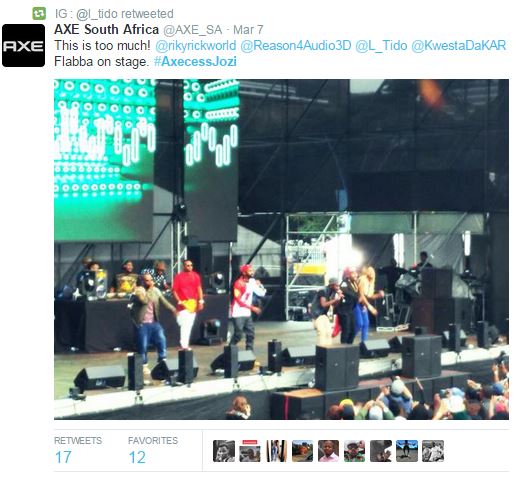 Seriously, I don't get how someone can be on stage and on television one day, and the next he's dead and gone forever. When I told my colleagues at work the news, the mood dropped visibly. 
I can only imagine how his family and  former band mates are doing, as well as every artist he's ever worked in the industry. This could not have happened to a nicer guy too. 
ZAlebs once had a Q&A with Flabba a few months ago. Just reading it now is making my heart tighten. 
Rest in peace Flabba, you are already missed by many.