Many of us know her from her Isidingo heydays as the character of "Nandipha" with her delectable brown skin and sexy hoarse voice. However, many of us are also unaware of the fact that she's also quite the extreme sports junkie.  Not only did Hlubi Mboya complete the gruelling Absa Cape Epic race a week ago but thanks to the good people at Red Bull, Hlubi is now set to also embark on the Red Bull Wings for Life World Run Race taking place in May.  We caught up with the actress/athlete to find out what her expectations are for this exciting race that surprisingly has no ending.
What inspired you to take part in the Red Bull Wings for Life initiative?
First and foremost I'm all about the upliftment of people, especially for people who don't have a voice.  My involvement in this great race is all in aid of research and raising funds for the final cause and injury race research, which is basically what Red Bull Wings for Life is all about.  Secondly, I love to be active, I love meeting new people and all of this is just a package of everything I absolutely enjoy doing and what better place to do it than in Franschoek, one of the most beautiful places in our country.  
Wow you say this with so much passion and enthusiasm….
I consider myself as someone who is a doer and I really walk the talk.  It's really all about setting an example for other people and I'm also a firm believer of Karma, the more good you give the more good you get.
How far do you think you'll go before the "catch a car" catches up to you?
You know what, I'm new in the whole running sphere, I've just completed an extraordinary mountain biking adventure which took me eight months to prepare and to be physically and mentally fit for.  I know Red Bull Wings for Life is a social run but at the same time I'm still very competitive and I still want to do the best that I can. If I can run a distance of  5 to 10km's I'll be very satisfied. But most importantly it's about having heart about the initiative and the fact that it's a global initiative really makes me believe that I'm a global citizen of the world and that I can make this world a better place to live in.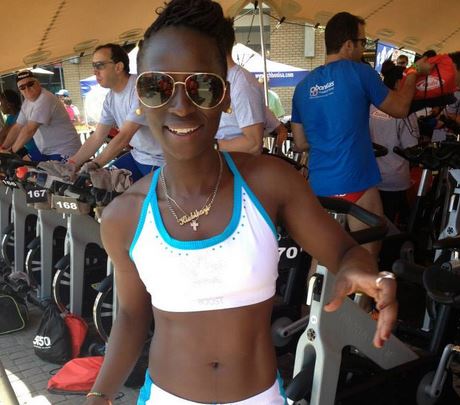 You sound like a really competitive sportswomen, were you also this competitive in your High School days?
I was an all-rounder and it's funny because people are so surprised to hear all these sports activities that I'm involved in now but like I said it's something that I've always loved and enjoyed.  You know I believe that it's not about only loving sports or constantly going to the gym, for me it's just about getting the heart rate going and most importantly it's about having fun.  So whether you're going to a dance class, climbing on a bicycle or even just walking the dog just get out there and get physically active.  I just love to motivate and inspire people to be the best versions of themselves, especially when it comes to teenagers with sports I believe that they can really find they calling within that activity not just being a lover but being a doer of something that can really be beneficial for their health.
This past week was considered the most dramatic phase of the Oscar Pistorius trial, your comments on the trial?
I think that it's important that one has a perception about this trial, and if you think you're having a bad day put yourself in Oscar's shoes and get a better perspective.
For further details on Wings For Life go to www.wingsforlifeworldrun.com/en/