Khanyi Mbau has had a good year.
The actress and TV presenter, who has a successful talk show, also turned 30 this year. The mother of one has definitely come a long way in her career and personal life and is growing stronger every day. 
Oh, and she's bagged the cover of True Love magazine's December issue. In the magazine, Khanyi talks about her battle with addiction.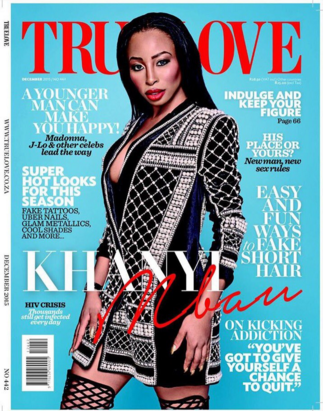 Before you jump to conclusions, she explained on Instagram: "I have an addictive personality and it sometimes delays my blessings as I get comfortable easy. Opening up about this was not easy, but I said it! There." 
Forget the cover, it looks like some people are more worried about Khanyi's face. Has she had more work done? Or did the make-up deparment fail her?
One fan's comment read: "Do you talk about the work you've done on your face or anywhere else?"
While another one wrote: "Yooo Khanyi your face looks strange, I like you so much please stop whatever you doing to your face."
Another follower asked Khanyi to tone down on the procedures. "Khanyi you were born beautiful. Its not hate, but a concern. Please tone down the procedures or botox if any that you are doing on your face. Its doing damage than good.
Others took to Twitter to express their thoughts on the cover. 
... Khanyi Mbau's Face x The Face Beat On That True Love Mag😭😭😭😭😭😭😭😭😭😭😭😭😭😭😭😭😭😭😭😭😭😭😭😭😭😭😭😭😭😭😭 Kwenzakalan !! ...

— Tebogo Nxumalo☺ (@TebzahNxumalo) November 23, 2015
Khanyi Mbau turnin' into Lil Kim?

— Thato Griffin (@_ItsTrix101) November 23, 2015
What's happening to Khanyi's face 😔

— Mananki Mabale (@mananki_m) November 23, 2015
That True Love cover hurts. The make up makes Khanyi look like she's had a ton of surgery. Who approves this stuff?

— slim thug (@Armely_) November 23, 2015
they did Khanyi so wrong. If her make up was better that cover would've been perfect. She's the one we've been waiting for yaz'😭

— welcomedover. (@_ZukiswaBotwana) November 23, 2015
@Mijeaux Khanyi Mbau's makeup is really harsh but I see a weird thing going with the perspective of her face. Am I imagining this?

— IMadeWoke30Seconds (@MsMeJanine) November 23, 2015
Khanyi Mbau is five to looking like Donatella Versace 🙊 how can one ruin such beauty 😞

— Zamangwanya Malgas (@Zamangwanya) November 23, 2015
Image credit: Instagram