Cape Town has this amazing ability to mesmerise you at any given point in time.  With sights and sounds only the Mother City can offer, it's the perfect setting for an auspicious event such as the Cape Town International Jazz Festival that has grown tremendously over the past few years.  
Being a house, rock and classical gal myself I got lost in the beautiful jazz sounds of Live Acts across many stages.  Names such as Jonas Gwangwa, Shane Cooper Quintet, Erykah Badu, Lalah Hathaway were on the lips of everyone who attended.
As MC and broadcasting Live from the CTICC [Cape Town International Convention Centre] for SABC's 2000FM national radio station I enjoyed shaking hands with so many and working until the early hours of the morning wearing David Tlale and Black Eyed Susan compliments of 'The Bread and the Bromwell Boutique' as well as some gorgeous shoes from Shado.
All tagged up and ready to go, the security was super tight at this event further enhancing that exclusivity feel.  I interviewed a few passers-by and many mentioned that the event had been taken to bigger and greater heights.  A favourite amongst everyone was a band called 'The Soil' whose performance was outstanding.  I was lucky enough myself to be at the stage where Australian band, Haitus Kaiyote, was performing.  I had never had the chance to see them Live and later I managed to grab the lead singer, Laiydi Kayote, for an interview.  She spoke with such ease and was so humble, chatting about who she is as a singer, how her clothing defines her personality and about the many awards and fun moments the band has encountered over the past few years.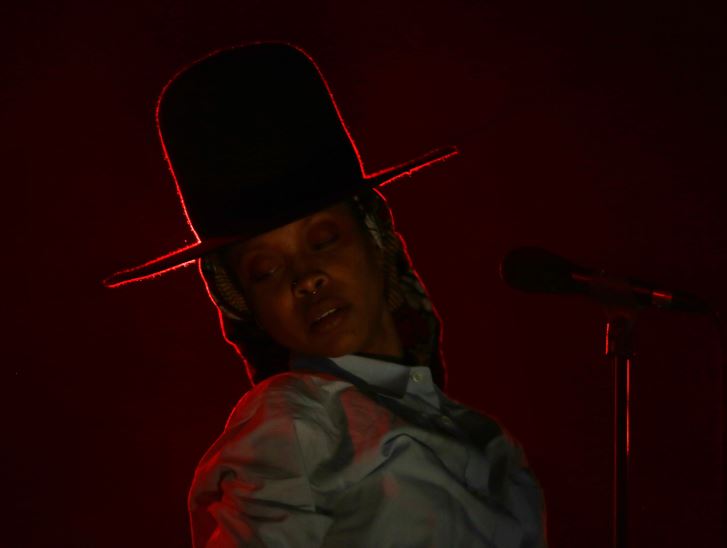 Now The Muffinz are local performers from Jozi who say they are trying to change the world one ear at a time and I chatted with them the day before their performance at the Jazz Fest.  Having to announce them on stage I was once again impressed by the band's down to earth attitude and humble nature, showing us you need not let the music industry take you to a place where you don't appreciate your fans or your music.  Their passion truly comes from deep within and once I handed the stage over to them the full house that attended screamed in recognition of their amazing talent.
I was also told a bit later that some onlookers got quite a the surprise watching the Level 42 performance and realising that Shakatak was standing right behind them.  A moment to remember!
Feeling the urgent need to mingle I went off to take a look at the hospitality lounges that was built up for various corporates.  Stunning lounges was what I was lucky enough to encounter with delicious treats everywhere, including the media lounge.  I enjoyed every minute of grabbing a bite or 2!    
At one of the lounges, whilst digging into those treat, I heard a sweet, melodic, deep and sexy voice emanating from the big screen.  Lalah Hathaway had made her way to the stage and belted out such smooth sounds you couldn't help but stop and admire her.    
Then the 'Queen of the Hour' was none other than Erykah Badu.  She was beautiful and graceful as always with her 'tongue in cheek' lyrics enjoyed by the audience.  
Working in media is hard at times, but it's moments like these where you get to appreciate why you are where you are, and will continue working the way you do.  I left feeling blessed, honoured and oh so lucky to have been able to attend this festival.  Well done to the organisers who had put so much into making this a huge success, which indeed it was.
Article by Kia Johnson
Image Credit:  Gallo images