Ahead of the first episode of season four,
the reclusive actress
gave us- well, Zolani and Emma- a chance to celebrate her as she was interviewed in her first Instagram live. The Instagram live session showcased the clear difference between Lindiwe Dikana and Sindi Dlathu. A detail that the Instagram live video showcased was that the good sis does not need makeup as her skin glowed naturally, Moreover, it showed why Dlathu got the title as the love that she has for her fellow actors and vice-versa was clear.
Now, to the situation we need to discuss;
the "surprise" exit of Tumi Mokoena
played by actress, Larona Moagi. Moagi's exit was foreshadowed by the season three finale of the telenovela. But the matter became a real thing when preparations for Tumi's funeral started on the show this past week.
Last night's episode was the final goodbye to Tumi
, but the masses were not talking about missing the character of Tumi- like the uproar when Malefu was killed off forever- but over the stellar performances given by the cast that actually cry on command- get it?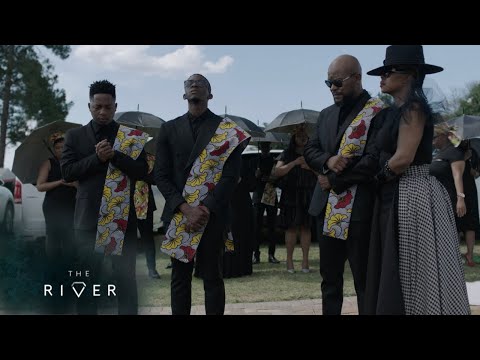 It has been a week since we last saw the presence of Tumi on "The River,"
and the telenovela has not lost its steam. The character of Tumi was considered the glue that blends the two worlds of the telenovela, so it will be interesting to see how they manage that. However, this past week they managed to keep glued to our screens and tweeps were not shy to go on the socials saying how much the show is better now.
But if you were
wondering if Moagi is stressed about losing the bag
and her role, well worry not. In another "Emma and Zolani" Instagram live video; Moagi let it be known that as much as she is grateful for the experience of having worked on the telenovela that gave her first acting experience but she was ready to let go. But then who can blame her considering how much South Ah did not let the good sis know that its if fine to cry on camera- get it?
Read next:
Which Actors Are The Highest Paid Between The River And The Queen