Last night Big Brother Mzansi fans had their say as they chose spaza shop owner Mandla Hlatshwayo as the winner of this year's Big Brother Mzansi and of course, the tasty R1 million grand prize. The 63 day-long season of the reality super series drew to a stunning close with a highly emotional two hour finale that had us biting our nails in anticipation.  Big Brother went all out to ensure that when the curtain came down, it did so sensationally!
The Finale kicked off with host Lungile Radu standing centre-stage flanked on both sides by the ever so stunning housemates. All of the evicted housemates as well as the chamber housemates joined Lungile on stage.  We were surprised, as well as thrilled, to see disqualified housemate, Mbali, on stage too, Mbali had been disqualified after the  slapping incident with Iris whilst in the chamber house.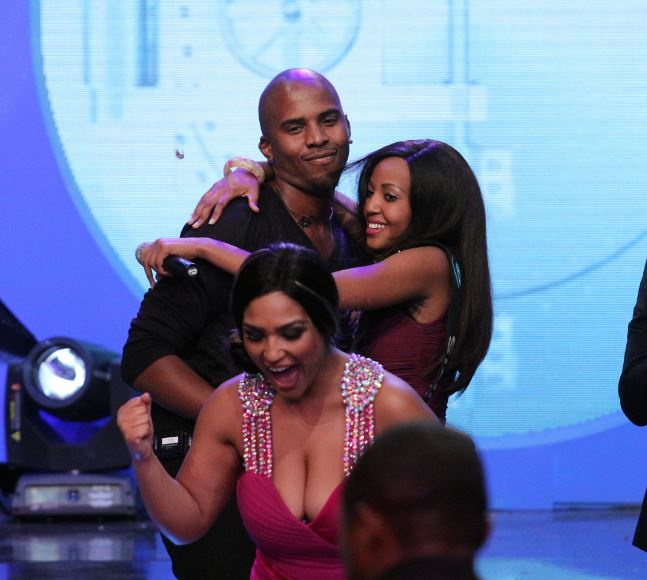 With romance, friendships, feuds and conspiracy all having featured in this season, there was no way that the finale would not look back on these epic encounters. Never one to disappoint, Big Brother stitched together some of the key moments of this season in a specially packaged insert that showed all these encounters, even the strikes the housemates earned for not following the rules!  Big Brother didn't forget to also pay tribute to last week's evictees and showed Lexi and Poolie in Soweto, from where they sent their shout-outs to fans, after recounting their highlights in the show.
Even though this was the finale we knew that Big Brother Mzansi wouldn't end without a few more shocking surprises lurking around the corner.  When Biggie instructed Iris and Kat to make their way to the vault and await further information we knew that things were about to take an interesting turn.
Once in the vault, Iris and Kat were faced with a screen and a buzzer. The task ahead was simple and, without revealing that today was the last day of the show, Biggie explained what was to happen. With the screen counting up to an undisclosed amount of money in a short amount of undisclosed time, Kat and Iris were faced with an enticing choice. The first person to hit the buzzer, would win the amount on the screen, but would have to leave immediately. As the screen began counting up, and the tension mounted, it was Kat who buzzed out of the game taking home a whopping R 100 562. Quite a smart move from the bubbly Kitty Kat who later on admitted that her multiple relatishionsips with the guys in the house was actually part of her strategy throughout the game.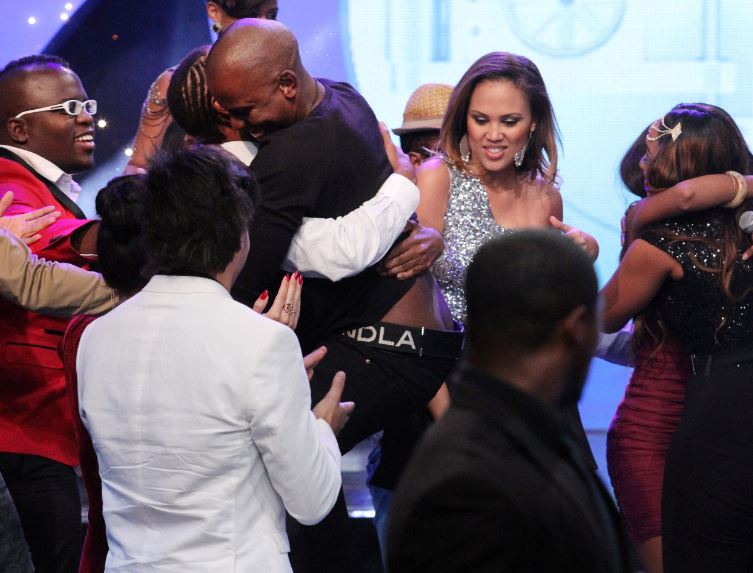 It was hilarious to see 'Sol of the House' pouncing on Kat on stage- unfortunately his exuberant greeting seemed to irritate Kat more than delight her.
One moment of quiet descended as Lungile revealed that the runner-up would win R 150 000 while the winner would take home R 1 million. He then slowly opened the envelope and as soon as he announced that Mandla had scooped the big prize, the Jozi studio erupted with fans and former housemates treating the "Kasi King" to a roaring standing ovation!  
We not only send our congratulations to the winner but also to team M.I.L.K (Mandla,Iris,Loko,Kat) who all walked away with more than what they had expected. One thing we'll definitely miss about Big Brother Mzansi Secrets is the Saturday night party zones that had us stuck to our television screens patiently waiting for the drama to unfold.
Look out for our interview with Big Brother Mzansi winner, Mandla, later this week- as well as one more piece to wrap everything up!
Image Credit:  www. mnetmediamagic.co.za