Viewers outrage has forced
Moja LOVE
to issue a statement following the disturbing scenes that were depicted on
Isencane Lengane
. The recent episode of Isencane Lengane saw
Thando
Msomi
experiencing Gender-Based Violence at the hands of
Siyacela
Dlamuka
and Moja LOVE proceeded to air this troublesome episode.
Read more:
Thando Dragged For Forgiving Siyacela
Since then the channel MojaLove has issued a statement to to profusely apologize for upsetting viewers. While highlight that the reason they aired this specific episode was to teach about GBV and all the social ills that takes place in our societies.
"the most recent episode of Isencane Lengane, on Moja LOVE (DStv Channel 157), saw couple Siyacela Dlamuka and Thando Msomi engage in a heated argument, leading to Siyacela becoming violent towards her. Following the broadcast of this episode, there has been uproar with some labelling this as irresponsible broadcasting" reads Moja LOVE's statement.


Evidently, South Africa is faced with the high numbers of Gender-Based Violence as well as Femicide. To an extent, GBV and Femicide has been dubbed another pandemic following Covid-19. So, for
Moja LOVE
to continue to broadcast an episode that will trigger scores of people, be it they are victims of GBV or advocates for this pandemic. It was only a matter of time before complaints emails were forwarded to the Broadcasting Complaints Commission of South Africa.

"Moja LOVE would like to put it on record that, the channel does not condone GBV in any way. Moja LOVE prides itself on producing content that reflects the reality in our society, including social ills, and as such could not sweep the GBV incident between Thando and Siyacela under the carpet. In a country burdened by Gender-Based violence and Femicide, Moja Love has a responsibility to reflect and show the extent of this pandemic" reads Moja LOVE's statement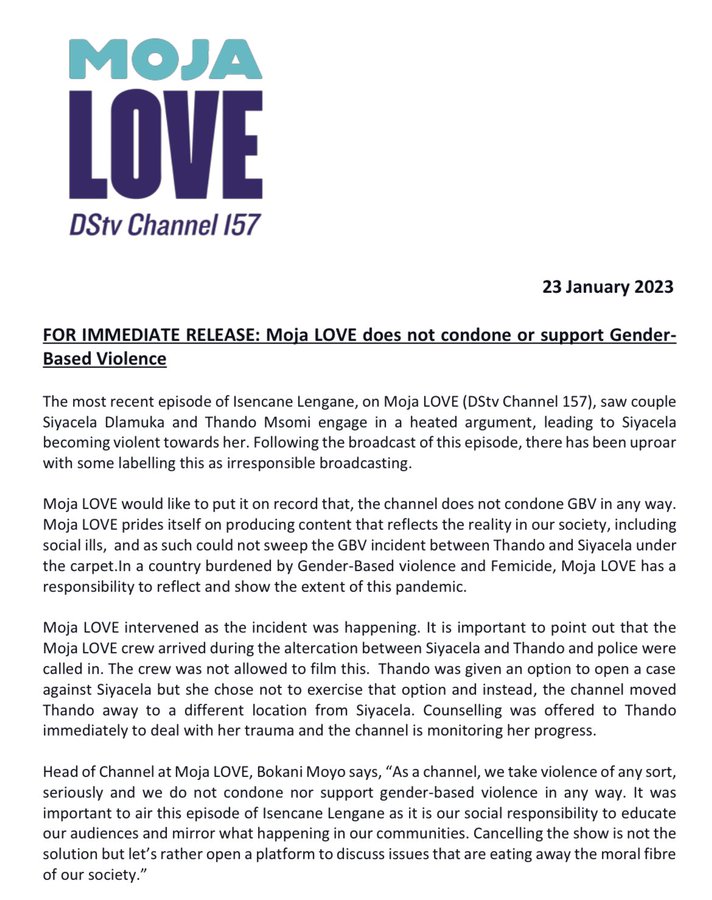 Even after the statement
Moja LOVE
have issued, viewers are still calling for
Isencane Lengane
to be cancelled for once ad for all. Evidently, there is nothing to be learnt from the show. Apart from parading almost two teenagers who are figuring life as they go. However, the violence that has come to light was the last straw for the viewers.


"
@MojaLoveTv
This nonsense of this Amoeba called Siyacela have expired, its promoting gender based violence and this Television station is advocating this nonsense indirectly." wrote Bongani Mkhwanazi
"
#isencaneLengane
yoooh is
@MojaLoveTv
trying to promote GBV hayiii we are tired of this show nothing good is coming out of this My heart breaks for Thando where is her family hayiii guys Siyacela should be arrested usitufu tufu somuntu mxm
#isencaneLengane
" wrote Ncube Zilankatha
Read more:
Bab' Dlamuka From Isencane Lengane Has Died

Image Credit: ANMG