What's the story? Set against the sexy, glamorous golden age of Formula 1 racing in the 1970s, the film is based on the true story of a great sporting rivalry between handsome English playboy James Hunt and his analytical, brilliant opponent, Austrian driver Niki Lauda. We get an insight into their very different personal styles on and off the track, their loves and the astonishing 1976 season in which the tenth race at the Nürburgring in Germany would prove to be critical.
 
Who's in it? Daniel Brühl (Inglourious Basterds) is Lauda and Chris Hemsworth (Thor) is Hunt. Both are excellent in their portrayal of these two racing legends, but Brühl's performance got him a nomination for Best Supporting Actor at the Golden Globes. Olivia Wilde is Suzy, Hunt's model wife and Alexandra Maria Lara is Marlene Lauda. In one of Hunt's many sexual conquests, Nurse Gemma looks familiar, the role belongs to Natalie Dormer from Game of Thrones.
 
Who's the director? Ron Howard who is best known as director on movies like Apollo 13 and A Beautiful Mind for which he received an Oscar.
 
What will you remember? The cinematography... the race scenes are brilliantly shot.
 
What's the best scene? The scenes after Lauda's crash where his burn wounds get treated in hospital are not for the faint-hearted.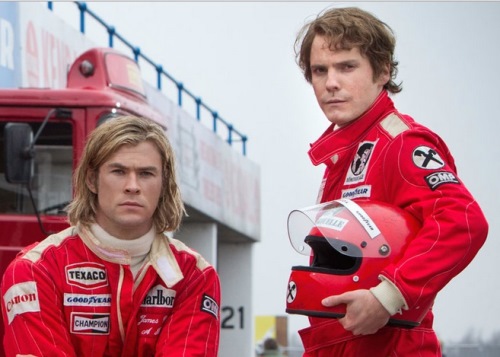 ​

 
What's the best line? "The closer you are to death, the more alive you feel. It's a wonderful way to live. It's the only way to drive."
 
With what piece of information can you impress your friends?  The James Hunt/Niki Lauda 1976 race depicted in the film, was the last Formula One event staged on Germany's notorious Nürburgring Nordschleife (North Loop), since the track was deemed far too hazardous. 
 
What did others have to say? Utterly gripping. Aided by two punchy lead turns, an Oscar-worthy script and stunning in-car footage, Howard's race film delivers top-gear drama. A piston- and heart-pumping triumph. www.totalfilm.com
 
It rarely deviates from formula, but Rush wins big, delivering the most exciting F1 footage created for film. Like Hunt, it is sexy, funny, full of thrills. Like Lauda, it is intelligent, a bit blunt, but ultimately touching. www.empireonline.com
 
Even if you're not a race fan, the acting performances and tension between the two main actors, Hemsworth and Brühl, really capture the essence of what great sports rivalry is comprised of, mutual respect and disdain for the other competitor. www.thereelcritic.com