Known as one of the top celebrity makeup artists in South Africa, with a body of work that will stand the test of time, Nthato Mashishi is the perfect example of how to sustain longevity in the entertainment industry.
With a career spanning 14 years, one might be mistaken for thinking that Nthato Mashishi only does make-up work for Bonang. Not at all. In fact, did you know that Nthato's career catapulted to greater heights when he worked on the set of Yizo Yizo 1 back in 2002? Also, did you know that Nthato did former President Nelson Mandela's make-up too?
In an interview with ZAlebs, we asked Nthato if he ever feels that his career can be overwhelming considering that his life is a 24-hour entertainment reel.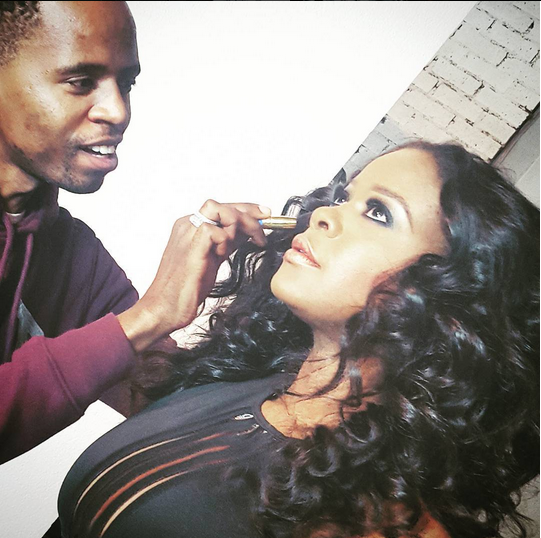 "Well, yes, sometimes, but it comes with the job, I've been doing this for the past 14 years and it's been a rollercoaster ride filled with a lot of blessings. I've travelled the world, it's something I enjoy doing and, yes, I do get those days where I don't want to be part of the ongoings of the entertainment world but at the same time I go back to the basics and realise that God has blessed me with this and there's somebody out there that's looking at what I do all the time," he told ZAlebs.
"So, if I don't wake up and do my job and be the best that I can be, I'm failing that little boy, girl and just everybody who aspires to be in the position that I'm in. Yes, there are those days where I'm like…'I don't want to do this, I'm exhausted, I've seen it all' but now I'm enjoying the fact that I'm travelling the world and I'm learning the new route my career is taking because this is an evolving career that changes all the time."
Even though he didn't want to divulge too much on his 2016 plans, Nthato hinted to ZAlebs that a make-up brand of his own might be in the works, but we emphasise MIGHT! He's also planning on setting his goals towards radio and television in future.
Image Credit: Instagram