Frankly speaking, this show is far more interesting when the wedding is not so perfect and there's a number of faux pas moments. We know it sounds like we enjoy seeing bad things happening to people, but that's not the case, it's just funny to watch people embarrassing themselves on TV. We're sure you agree?
This week's Our Perfect Wedding couple, Rachel and Jeremiah, who are both 34, were no exception. This couple managed to keep us entertained after a number of 'boring' weddings in recent weeks.
Rachel and Jeremiah met while they were both working in the USA, a country which shall never escape Rachel's memory, even if she has amnesia.
We don't want to waffle, we just want to go straight into detail and discuss Rachel's atrocious dress. So the wedding dress was bought in the USA - a big deal if you think the USA is as close to paradise as you will ever get.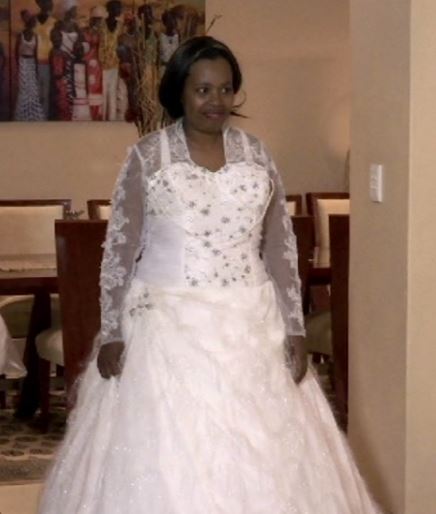 The problem is that the dress looked like a curtain. This was one of the most underwhelming dresses we have seen on the show, and a true confirmation that it doesn't matter where you buy your dress. If you don't have style, your expensive garment is just like a car with no wheels.
The bridesmaids' dresses were generic, we really can't say much about them. But there's definitely something to say about the maid of honour's dress. She looked hideous. That pink silk dress didn't differ from pyjamas. The thought of the dress still leaves us in dismay.
The groom was not any different from the bride, as his suit resembled the ones worn by Boyz II Men in the 90s - over the knee jackets? We couldn't believe it, who dresses like that in this day and age, even worse at their own wedding? Style never loved this couple.
The groomsmen were wearing cream white suits, but we can't tell if they looked good or bad because we were still distracted by the groom's ancient Steve Harvey look.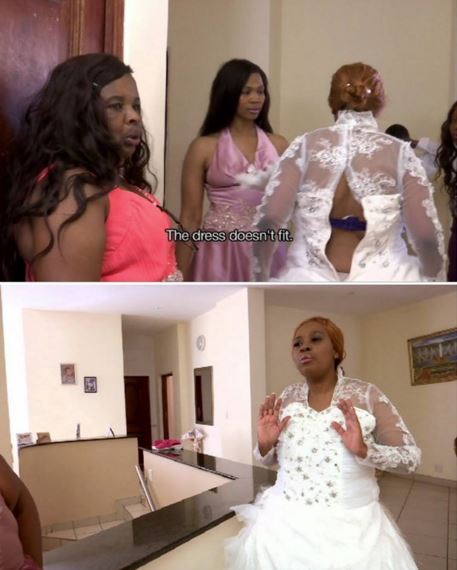 It's just a blessing in disguise that the zip of the American dress snapped while Rachel was still preparing to go out, and she opted for another dress which she had planned to wear for the reception. The second dress was ten times better than what she had initially planned to wear. We hope she will realise that it was a good thing for the zip to snap?
Thanks to the zip, the second dress looks much better. #opw #OurPerfectWedding

— Mopedi Thwii (@lady_rebone) November 8, 2015
When the American dress reveals where it really comes from #OPW #OurPerfectWedding pic.twitter.com/teT1mo6VMR

— Honorable Kay (@Kay_Bianca) November 8, 2015
Seven years in the wardrobe broke the zip? Or so now you blame the South African wardrobe. #OurPerfectWedding #OPW pic.twitter.com/lNpxg5qovU

— Pootie Tang (@Mdudemeister) November 8, 2015
The bride decided to go to the reception venue in a chopper and the husband came by boat. But unfortunately, they failed to match the outfits for their grand entrance. It's like buying expensive clothes and then wearing them with dirty shoes.
The only thing that this couple got right was the décor and the cake. The hall was nicely done and even the cloths used for draping looked far better than THAT USA dress.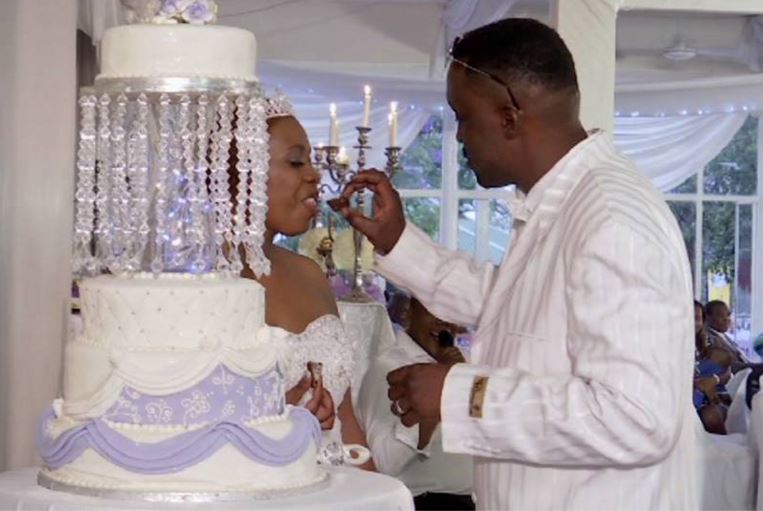 This couple had the resources to make their wedding look spectacular but they failed. We score this wedding a four out of ten.
Image Credits: Facebook