Prince Kaybee
has decided to put his words into action by taking a stand and protesting with students during the #NationalShutdown protests. Yearly,
students fight for free education
as they face exclusion from their various institutions because of historic debt, high registration and tuition fees.
Read more:
Mzansi Celebs Weigh In On #WitsProtest
The South African Students Congress (Sasco), together with other student organisations from the various parties, called for a national shutdown across all universities, and encouraged students to put on their most comfortable sneakers and hit the streets.
Many of our local celebrities have voiced out their concerns regarding student fees and how to make education accessible to the less advantaged. However, it was
Prince Kaybee
who took time from his busy schedule to hit the streets with students and demand free education and for the black child to not be excluded.
He took to his social media platforms and shared visuals of him protesting with the students at University of Johannesburg.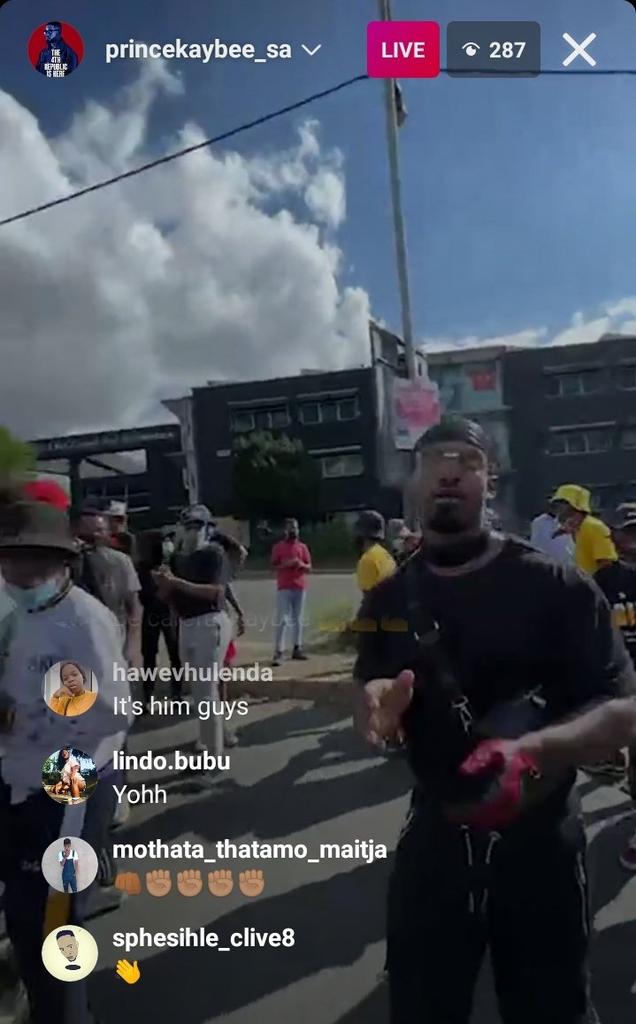 On Twitter he shared how proud he is of students who are not letting society block them from achieving the free quality education they desire,
"I'm inspired by the level of courage shown by the students marching for free education, even when they are bullied, beaten and shot by the police, they kept fighting. All of us should take time to support their struggle in whatever way we can. Their pain is our pain!"


When a female student got injured during the protest in UJ, Prince offered her free transportation and support to a medical centre.
"@PrinceKaybee_SA
doing the Lords work. I hope she gets the medical attention that she requires and b healed. Thank you for offering your transport and support Talk about being at the right place at the right time,"
wrote one of the students.
Prince revealed that she got shot right in front of him so he had to help wherever he could.
Also offering a helping hand on the #FeesMustFall issue is published author
Jackie Phamotse who offered to help pay for slain Mthokozisi Mtumba's funeral.
The Master's graduate and father of three lost his life after being caught in the crossfire between students and the police last week at a Wits protest.
The four policemen who were connected to the murder of the 35-year-old have been arrested and will be appearing at the Johannesburg magistrate's court on Wednesday.
Pledging her support, Jackie tweeted:
"As a South African black student, I pledge my support to stand with #witsprotest! In my own personal capacity, I will donate to bury the pedestrian that was brutally killed by our police. I can't watch as our people drop like flies!

"I'm speaking to students on the ground, we are waiting to hear from the family once they have been informed , I'll do my part. Images of him have been wildly circulated. This has deeply saddened me, police brutality is out of control! We need accountability here!

"I don't belong to any political party, nor will the amount of my contribution be made public. I am just an ordinary citizen, fighting the same fight. I cannot be part of the millions who do nothing! I will walk on the same streets and protest with them! Education is important!" she said.


Read next:
Boity Parties With Her Ex
Picture credit: Instagram