There is only one topic that has been dominating local entertainment news in the last 24 hours; R.Kelly's Single Ladies Tour. Zalebs was fortunate enough to be a part of one of the most memorably nights in SA entertainment history.  We arrived at the Orlando stadium to a full house, R.Kelly's fans really turned out in their thousands, some even arriving in tour buses to see the King of R&B perform. Teeny boppers were no where to be seen in this venue and it was immediately obvious to us that this was a concert only for the grown & sexy. The single ladies were in full effect patiently waiting to be serenaded by the "Pied Piper" we even overheard a lady saying
"Oh my gosh I'll just die when he sings Bump 'n grind"....
His opening acts Lira and Zonke were nothing short of pure entertainment having the crowd singing to each and every song. Lira, who wore a beautiful white flowing outfit had people screaming their lungs out with hit singles such as "Hamba" (Go) and "Ixesha"(time). The audience also enjoyed her rendition of Rihanna's "We found love" quite soulful must we add.
Zonke who came on before Lira absolutely killed her set, we love how both these ladies oozed not only immaculate confidence but they really do sound like their in studio when performing on stage, something some of these international artists are yet to master.
However, Mr. Robert Kelly has mastered that skill many a time and last night he easily proved to us why he's still an RnB heavy weight following 27 years in the industry. Coming on stage at around 10:00pm sporting his signature shades, R. Kelly got right into business and dropped his 90's hit single "Bump 'n Grind" from his "12 Play" album to a roaring crowd of ladies who slowly gyrated their hips in the slowest of motions (we did say this concert was for the grown & sexy).
Kelly paused for a while greeting his African fans expressing his happiness in being back in the country but what rally surprised the fans was when he mentioned that he was slightly unimpressed with the protocol he had to follow:
"You know backstage I was told that I was not allowed to curse, or mention anything of a sexual nature. But see the thing is I'm a grown ass man and I'll do whatever the f*** I want, right ladies?" And of course the ladies agreed by passionately screaming in approval.
Kelz took us back to the 90's with tracks like "You Remind Me", "Half on a baby" then fast forwarding to the 2000's with tracks like "feeling on your booty" and "Move your body like a snake"
But the most emotional songs that hit us to our core were his songs "I wish" and "I believe I can fly" where he stood in amazement admiring the crowd as we sang the songs word for word. The R&B crooner became a bit emotional as he added "I wish my mom was here to see this, I wish Trayvon Martin was still alive"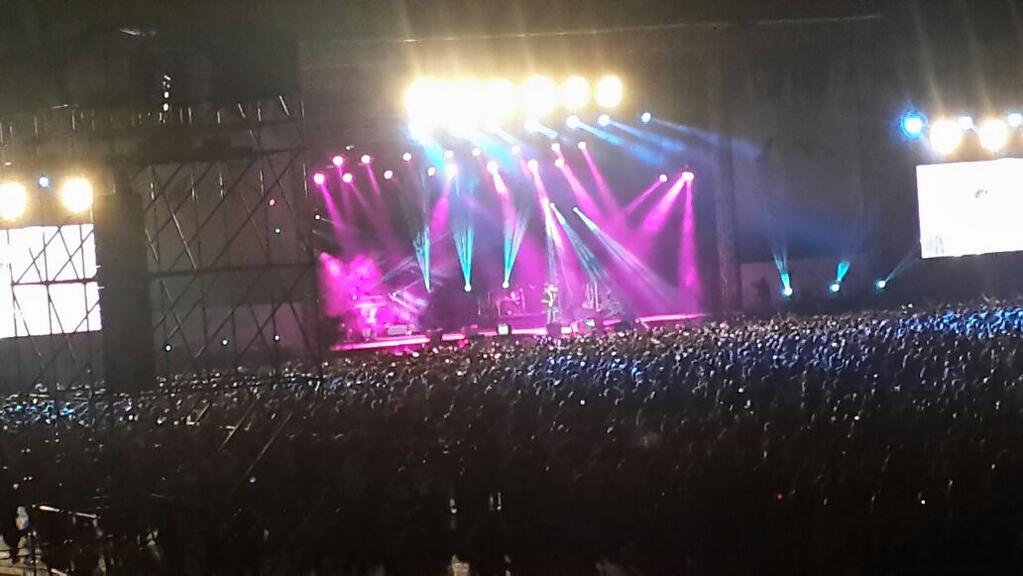 Funny moments were also recorded when a lady threw her black D-cup bra to the stage, as Kelly humbly thanked her for the gift. Another funny moment was when the crowd sang the first lyrics of "Bump n grind" in an out of tune tone. R.Kelly was humorously shocked at our vocal abilities (or lack thereof!)
"What the hell just happened there? It's fine I'll do it for myself"...he said, as he delivered the verse with perfection.
If you grew up in the 90's and missed out on the Single Ladies concert last night you should kick yourself because Robert reminded us why he still runs this R&B game.
Don't forget to follow us on Twitter and to find us on Facebook!