International superstar and BET Award-winning artist Sho Madjozi,
is one artist who really knows how to 'get it right'. The
Tsonga rapper
who is nominated for the BET Awards again, has teamed up with TikTok in their latest campaign, to encourage
South Africans
to keep their #SpiritsUP.
As
South Africa
slowly eases back into the new normal, TikTok wants to support its local users by spreading joy, providing users some comfort, and encouraging everyone to have a positive outlook even amidst these challenging times. It's with this in mind that TikTok has teamed up with award-winning musician Sho Madjozi
The #SpiritsUP campaign aims to promote positivity in South Africa.
Sho Madjozi
has created a hot single titled "
SPIRIT UP
", accompanied by a smashing music video that everyone can get down to.
ZAlebs caught up with the singer recently, with other media publications, to find out why she decided to collaborate with Tik Tok, and her upcoming projects.
"I want to encourage people to look at the brighter side of life – to remain positive and try to have fun among all this madness. This is why I chose to partner with TikTok on this launch. While I have been at home, TikTok has been a platform for me to find joy and entertainment. Even more so, it has been a way for me to connect with my fans," she said.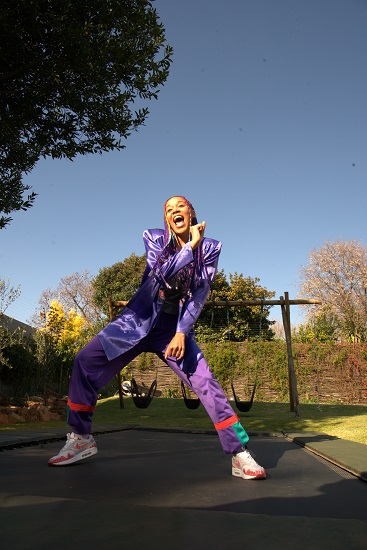 Sho who is known for her impeccable dance moves said, she decided to create the dance moves because she wanted people to be active during this time.
"I love collaborating, it is way more fun and makes me feel very inspired. One of the things we wanted to do was get people to be more active during this time. Because you are at home, and might forget that your body still needs to be kept fit. So why not create a song that is fun, and also has a dance challenge, which is quite active? It is a way of us getting people to do a bit of exercise." she added.
It is no secret that the
outbreak of coronavirus
has many depressed and deer in the headlights as the country continues to fight against the spread of Covid-19. The lockdown period has also affected many mentally and physically and Madjozi said she has also been up and down recently.
"I have been up and down. There are times where I thought it is completely against my lifestyle and the life I built for myself, staying at home does not feel natural. And there are times when I struggle and realize that other people might also be struggling too."
Sho Madjozi
recently bagged a nod at the
BET Awards 2020
, and she will be contesting for Best International Act, speaking about her nod she said its a great feeling and it leaves her in awe!
"It's really a win to even be nominated. Last year I was nominated and also won the BET Award for Best New International Act, and this year it's just Best International Act, so that's huge. When I think about it, it actually leaves me in awe, that. I had a really good year with the John Cena phenomenon, and my recent collaboration with Stormzy. I hope that my work in the past year will speak for itself
,"
she said.
Madjozi
said she will definitely be releasing an album this year, but could not confirm when. The singer revealed that she has a new record label but could not divulge more details.
"I'm still planning to announce my new record label situation. With the new team, we have to figure out how we are going to launch this. It's going to become a different phase of Sho Madjozi, where essentially everything you have seen from the beginning has been me and my tiny team, so now things are going to be different, hopefully, bigger and better, but I think we still have that part of planning, but definitely this year"
The
John-Cena hitmaker
said she would like to collaborate with the likes of Doja Cat and Lizzo in the future. "The interesting part, is that all my dreams are coming true. I really wanted to do something with Stormzy because I love the UK grime culture and, I was able to do that. It's tricky to answer, but I people like Doja Cat and Lizzo and its quite a few people in the music space" she said.
When asked when is she planning to release an Amapiano track she said "I'm waiting for someone to give me an amapiano beat that is slightly more uptempo, I want the vibe I want the feel so I want it slight uptempo." she added.
Madjozi
encouraged people to use this time to plan their next big move, "One of the things I say during the second verse of the song is Take this time to prepare, to get ready for whatever you want to do next. I don't think it is are ever going to happen again that we have so much time off. So instead of saying how horrible, it is that you're not doing anything at the moment, use it as a time to strategies prepare, If whatever that you want to do involves you being fit then do, use this time to get yourself ready" she said.
Picture credit: SowetanLive
Read Next:
Lerato Kganyago Calls Out A Tweep For Discrediting Her Hard Work