After weeks of speculation, musician
Sjava
has confirmed that he has parted ways with record label
Ambitiouz Entertainment.
On Tuesday afternoon, Sjava announced in a statement posted on Twitter that he is no longer with the label he has released three albums and won several awards under.
"I will forever be grateful for everything that they have done by giving me an opportunity and platform when no one did nanokuthi through them ngikwazile nokwakhela umama umuzi ekhaya," read the statement.
Sjava
in his statement mentioned they he will be forever grateful to the label for the opportunity and respects all the artists signed to the label and also ex-members and producers.
The award-winning musician also emphasized that he has no problems with anyone and he has always chosen to remain silent as he is not a person of beef.
Earlier this month a report by The Sowetan alleged that the uMama hitmaker s "extremely unhappy" with Ambitiouz records and is looking for an out. Label owner Kgosi Mahumapelo at the time said that Sjava is still signed to the label and will be for years due to the airtight contract he signed.
"An artist or label cannot opt to renew a contract that is still active and will be for a few years to come. All three contracts are active and Ambitiouz have not requested the artist to renew any,"
Sjava in his statement explained that he took a back seat from the limelight as he wanted to deal with the whole process with respect and dignity as he has learnt to be professional and not taking things personally in the business is important.
"The reason for partying ways iyaziwa yimana and the label for now and I hope that this process of parting will be done in a way that reflects mutual respect. That is my hope," said Sjava.
The musician also asked his fans to continue to love and respect what he does as they have been doing so and also asked that after this statement his fans not attack his former label or anyone else no matter what is said about him.
Sjava's departure now means that the whole African Trap Movement (ATM) which consisted of Emtee, Sjava and Saudi have left Ambitiouz.
Read his full statement below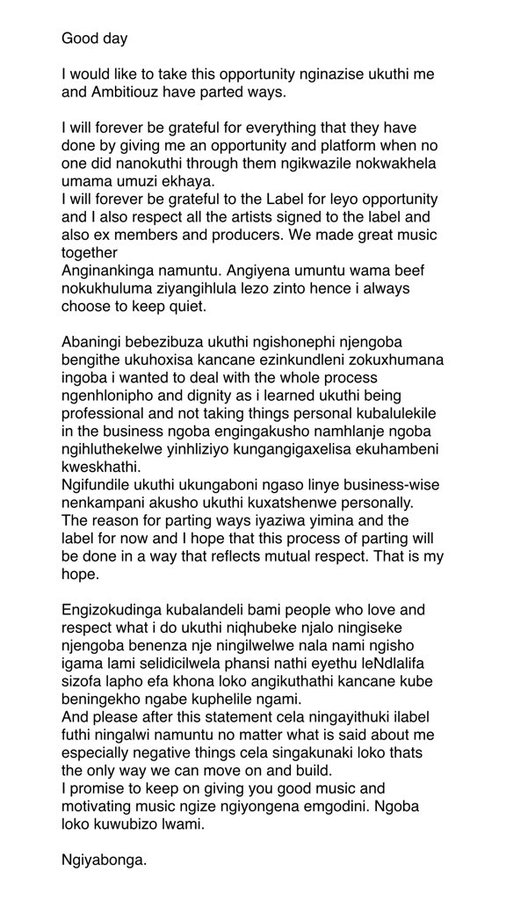 Image credit: The South African