According to the statement shared by entertainment commentator Phil Mphela, Somizi has referred the matter to his legal team.


The statement read: "Mr. Somizi Mhlong has become aware of allegations allegedly made against him by his estranged husband, Mr. Mohale Motaung, published in the Sunday World newspaper on 1 August 2021.


"Given the severity of the allegations, Mr. Mhlongo has referred this matter to his legal team who are best equipped to handle the matter moving forward. No further comment will be given until such a time deemed necessary by his legal representation."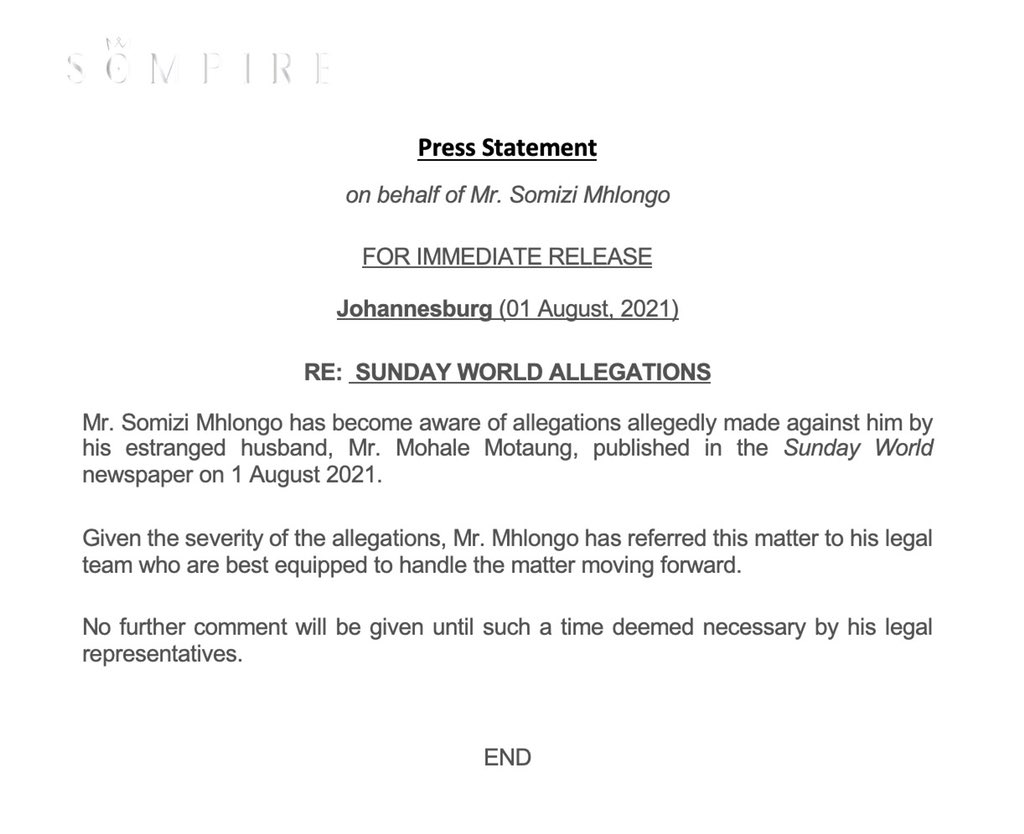 The publication reported that Mohale made damning allegations against
Somizi
to the producers of Somizi's reality show, Living the Dream with Somizi.
According to the publication, Mohale accused Somizi of breaking his ribs and almost breaking his two teeth at their home last year.


It is reported that the Idols judge started abusing Mohale only a few weeks after they started dating.


On the record, Mohale allegedly said the media personality started abusing him a few weeks into their relationship.


Mohale allegedly alleges that Somizi threatened to kill both of them with a knife after Mohale spent a night at a friend's place.


"I took my keys and walked out, he took a knife. I was about to exit, so he said to me, 'if you exit… I'm going to kill us both.' So I took my keys and ran. He grabbed the knife and said 'if you walk out, I'm going to stab you.' Now I see a different person. I was sh*t scared and walked back into the house. He said 'let's talk.' He cried and we moved on," the publication quoted Mohale.


The newspaper added that Mohale said he wants nothing but only his clothes and a car because Somizi allegedly damaged his car.


The pair is married in a community of property.


Tweeps have been dragging Somizi since the news broke, reacting to Somizi's statement, Tholang wrote: "I believe Mohale! He should not be scared anymore! This is his life! They can't bully him anymore! I hear him! I have BEEN seeing his pain, his sad eyes tell a story. He must fight for his life back! He deserves half of everything! Yes, I said it!"


@Majola_small:
"There is someone who is remote controlling Mohale from the media, and that someone doesn't like Somizi gay people are cruel, they can help you and destroy you if you don't give them what they were expecting from you

Read Next:
"Laying My Pops To Rest"

Image Cred: Instagram