Thabo Molefe
is a South African media mogul. He is admired by many and celebrated for his attempt to uplift the economic state of Vaal as a whole by hosting his annual super-car event.
Having grown up in Sharpeville and the United States, Tbo touch lives to see the next day, and he keeps coming up with new opportunities to further develop himself and his businesses.
Tbo is a family man, entrepreneur and a Disk Jockey who aims to create employment in South Africa.

Here's his biography.
Tbo Touch Age
He was born on the 4th of April 1981. He is 39-years-old.
Tbo Touch Family
Thabo Molefe was born and raised in Sharpville and was raised by his grandparents, Dr PF & Rose Ntombiyokuthula Molefe.

At the age of 15, he relocated to Syracuse, New York in the United States. He was adopted by Bishop Robert and Majorie Jones who he still regards as his parents.


Tbo Touch Education
At a young age, Tbo Touch was already an entrepreneurial student.

He was raised by his grandparents in Sharpville where he attended a primary school in the township. He furthered his studies at Thokoza Secondary School until the age of 15.
He studied his matric at Bishop Grimes High in the United States. While in high school, he was recognized as an entrepreneur and awarded for creating an Entrepreneurs Club and that saw him win the Business Skills award.
Tbo Touch Marriage

Touch was in a relationship with Thuli Thabethe since 2004 and the two called it quits in 2010. Although they separated, the two are still on good terms and co-parenting their son, Ruri.


Tbo Touch was then engaged to Nandi Molefe, a model and PR Agency owner in 2014. The couple had their wedding scheduled to take place in 2015.




In 2015, there were rumours that there was trouble in paradise when everyone was expecting the couple's big wedding. The DJ even moved out of their family home in Fourways to an apartment in Sandton, and the wedding was called off. Tbo Touch and Nandi were able to work out their differences and the wedding took place in 2015.

The couple have a son together that they are raising together, Zuri. Although, Thuli and Nandi did not get along at first, they have since mended their relationship as they both have children by the same man. They did this to keep peace between their families.
Tbo Touch Career
Growing up from the Vaal, Tbo Touch always wanted to be in the media space. When he moved to the United States - Tbo Touch was more focused on achieving what he always wanted.

Def Jam

Following his passion, Tbo touch landed an internship at Def Jam Records, at the age of 19. Through that opportunity, Tbo Touch met influential figures such as Kevin Liles and Jay-Z (Def Jam President) and his mindset was already aimed at being one of the biggest entertainers in Africa.

Metro FM

In 2004, Tbo Touch met Mr Lesley Ntloko, who at the time was Metro FM's station manager. Their meeting took place in Manhattan which Tbo Touch said was quite fruitful and went in the direction he was hoping for.




Tbo Touch walked out of the meeting with a deal to be the new host for Metro FM Live in New York City.

Radio career

Tbo Touch started his radio career in 2004. The media mogul was in charge of the international 'Metro FM Live' show where he worked on building his portfolio as an upcoming disk jockey.




In 2005, Tbo Touch was officially the face of Rhyme and Reason which was a three-hour long show. Tbo Touch was the first media personality in South Africa to host four different programs, amongst them were two live television programs. At the time, he was still working for Metro FM and Touch Central.

In 2006, Tbo Touch saw himself get a gig that had him host the Metro FM Awards for two years in a row. Touch was awarded Best Host by Metro FM in 2009.

In 2019, he was appointed acting CEO of Soweto TV and his first task was to come up with ways of growing the viewership. His skills also saw him land a role on the big screen as well. He's added actor, screenwriter and filmmaker to his list of accomplishments. He revealed his first acting role in 2020.




In the movie, the Touch HD owner plays the flamboyant Mthakathi, a shady character who throws extravagant parties where he introduces blessers to slay queens. Tbo Touch produced the film and co-wrote it with Sasa Nqabeni and Kumaran Naidu.


Tbo Touch Controversy

Tbo Touch is known to be in the media for his flashy lifestyle. But with fame, there are scandals which always linger around.
Tbo Touch VS The Breakfast Wave
In 2018,
Touch HD
was said to be heading for liquidation, these rumours were sparked after Larry and the Microwave Boys Crew left the Breakfast Wave. According to the reports, Touch HD had apparently promised
#TheBreakfastWave
team bonuses, but they weren't paid.
It is also believed that the whole team of four guys was paid R30k a month to share. This prompted Larry to amicably part ways with Touch HD.
It was later
reported
that Tbo touch was facing the music again after it was alleged that he has an outstanding amount of R190 000 for fees that occurred in 2017, at the Durban-July.
"Touch HD has noted the reports from the Sunday tabloids and its sister publications claiming that the company is under liquidation, we wish to dismiss the allegations made with the contempt that it deserves."


Tbo Touch v IDC
Tbo Touch was again in hot water as it was reported by Sunday Times that the media mogul was faced with a case of loan funds mismanagement, and lenders were demanding the money back.
On the 3rd of December in 2019, Tbo touch managed to have a settlement agreement with Industrial Development Corporation (IDC).
Tbo Touch v JB Media
According
to reports, the media mogul was faced with a lawsuit of R1.3 Million by a Joburg based media company, JB Media. Tbo Touch had allegedly failed to lay for the services rendered.
JB Media signed multiple contracts to provide ongoing production and marketing services to Touch Central Marketing and Media House, which Tbo failed to pay for. Tbo Touch unfortunately breached the contract and when he ignored demands for payment, JB Media took him to court.
Tbo Touch VS Soweto TV


Apparently, employess at television station are not happy with their boss, Tbo Touch, They claim that on numerous occassions they have not been paid on time.
The staffers that were retrenched were also promised to be given their packages, however, this has not materialised yet. Staffers were not happy with Tbo Touch especially after they saw him o multiple occasions flying in and out of the country.
Tbo Touch Business

In 2018, he was happy to announce that he was now a partner in the gin industry. He's the owner of 48gin which is a wine that only took him 13 months to make.

After he left Metro FM, he launched his own online radio station, TouchHD. Tbo Touch has always has plans on expanding the online radio station to reach other parts of Africa.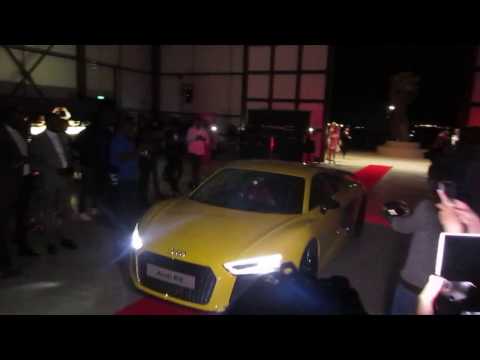 Tbo Touch Cars
Known for his lavish lifestyle, Tbo touch owns a Mercedes-Benz G Class estimated to be worth R1.2 million. He also owns a Mercedes-Benz A45 AMG estimated to be worth R800 000, he owns an Audi R8 Spyder estimated to be worth over R2 million.

Tbo Touch Net Worth
Tbo Touch was the second highest-earning disk jockey in South Africa. He used to earn R200 000 per month. He reportedly has a net worth that is over $700 000 and he seems to be well off.
Tbo Touch remains as one of the most recognized rappers in the country whose success cannot go unmentioned. Tbo Touch has never been shy to explore his talents in musical ventures and business ventures and this has earned him exceeding fame.
Read next:
Cassper Inserts Himself In The Sizwe Dhlomo And AKA Twar

Main image credit: Instagram