We can't believe that it's almost that time of the year again. You know, the time of year when local bands go head to head in the hopes of being named as an opening act for Vodacom In the City (VITC). Last year the concert brought legendary band, Skunk Anansie and The Hives to our shores, this year VITC takes it up a notch once again and brings on the likes of MGMT, Crystal Fighters and The Preset for our listening pleasure. And with the VITC Open The City finalists having already been selected we now patiently wait to see which bands will be talented enough to open up for the international acts. 
ZAlebs spoke to indie band, The Plastics, who form part of the selected four finalists, to hear what they have up their sleeves for VITC 2014.
The Plastics has quite an impressive list of accolades; from being nominated for 5 MK Awards to doing well at the SAMAs. Which leads to the question as to why did you guys decide to enter the VITC competition when you've been doing exceptionally well independently?
This is no ordinary Battle of the Bands as the prize is being the only local band to play Vodacom In the City. So it's a fantastic opportunity! MGMT are also one of our favourite bands so it really was a no-brainer [deciding to enter.] This one felt so right to enter and we have a real shot, being in the final four!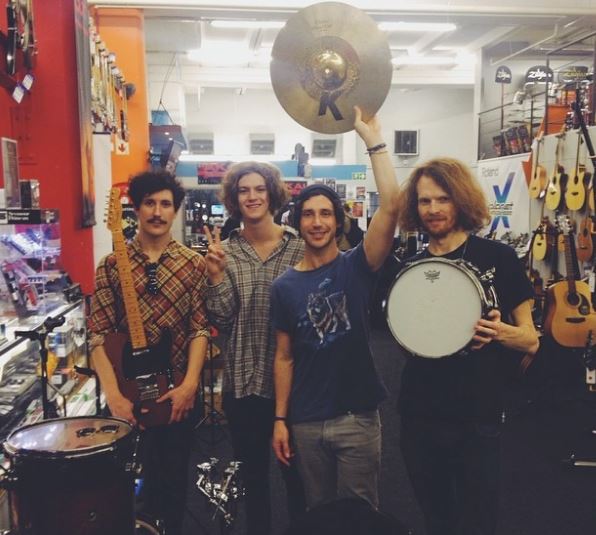 What does being one of the four VITC band finalists actually mean to you guys?
It means a great deal as the panel clearly rate us as worthy of a chance to play the gig alongside acts we like as well. The response from our fans has also been fantastic! It's great to see so many of them actively trying to help us win.
What are your artistic goals for the end of 2014 trickling into 2015?
We're in the midst of recording an EP at the moment with the Cape Town leg of tracking done at Digital Forest Studios, who we really enjoy working with. We're then finishing it off at Open Room Studios and very excited to work with Darryl Torr, who is producing the EP too. It's been a year-long road, since Emile joined us on guitar, and the songs are finally going to be unleashed. Besides this, we're off to Europe (for the first time as a band!) in November to play a showcase in Prague. We've been brainstorming some new video ideas as well.
Should the band win the VITC competition, how do you feel winning the title will benefit your hard-core fans?
First and foremost they'll get to see us at VITC, playing with all the top acts Seed Experience has brought out! Big stage, big sound and some new songs! Meeting the internationals and gaining insights, stories and experiences from them would certainly help us.  
 
For someone who has never seen you guys perform before, what can they expect during your performance at the VITC concert?
Energy, cohesion, new tunes, old favourites, brothers, fast jams, slow jams, dancing, thrashing, romancing, falsetto, soul, hair, good times. Come on! It's going to be insane.
Could you give the public three reasons why they should vote for you as THE band.  Especially for those who are not too familiar with your style of music?
We feel we fit into the line-up VITC has put together really well, being an indie band with dance sensibility.  I'll reiterate that we're massive MGMT fans so I don't think there can be more motivation for us to play the best show of our lives! The show is also timed well as we have brand new, fresh tunes ready for launch and we'd like to play some at VITC.