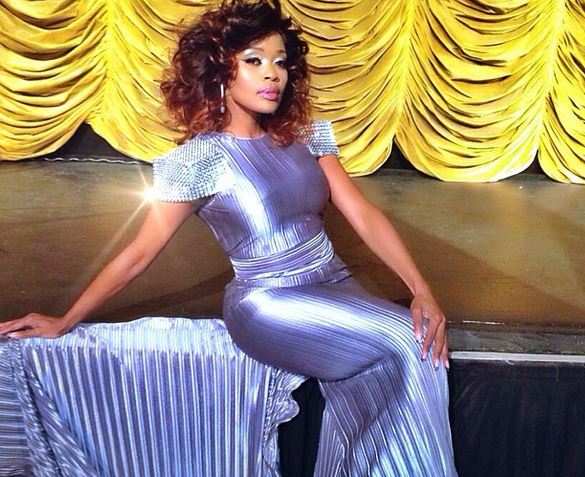 Dubbed as an all round entertainer and a lady who has mainted her longevitiy in the entertainment industry since the early 90's, it is without a doubt that Thembi Seete is one of SA's most favored ladies of South African entertainment.  From presenting dance shows and acting in television soapies to recording music and securing key endorsements, the evidence is there: there is no stopping Seete!
You've been in the industry for more than a decade, how do you stay looking so gorgeous? We're starting to think you're one of the few people who has discovered the fountain of youth!
Besides dancing I also go to the gym. Nothing beats a good work out!  I also have a team that I work out with who keep me motivated at all times.  My nutrition is something that also plays a vital role in my appearance and with winter upon us I've been extra careful with what I put in my mouth.
The last time we spoke to you, you were preparing auditions for your Thunthnsa Lerote music video. How impressed were you by the turn out of dancers who came to audition?
I was really overwhelmed and surprised by the amount of people who came through for the auditions. People from Bloemfontein, Durban and Cape Town travelled to Joburg for just that one audition, it was absolutely insane! What really impressed me even more was the amount of talent these dancers have.
Those auditions were a great foundation for digging out other hidden talents that these dancers possesse; it was truly an awesome experience and eye opener.  I'd like to thank all the music channels that gave us so much support in promoting the video and showcasing my passion for youth development.
Can we expect a Thembi Seete dance studio in the near future?
I had a dance studio with Lebo a long time ago, however the expenses of a dance studio are hectic. What I then decided to do is create good relationships with already established dance studio owners who have their studios open every day and who understand that work needs to be created on a daily basis. 
This is great for me because I know that I'll only use that particular dance studio when I need it thus not wasting my money on a dance studio that hardly has any rehearsals or performances occuring in it.  Having to maintain and make money from a dance studio isn't as simple as people think it is and that's why you have people like Somizi hiring dance studios for their work; it's really the best way to do things.
How were you creatively involved in Lundi's newly released music video?
The storyline that you see in the music video was written by me, it's a story that most of us (Including Lundi and I) have been through.  As we know he's experienced a rough patch in his life and career, I wanted to creatively showcase not only his struggles but our struggles as a people because we all go through difficult moments in our lives and sometimes it becomes twice as difficult to deal with those struggles when you're under the lime light.   
In this case its Lundi's story and struggles I'm revealing and I intentionally used his eyes to tell the story because I wanted him to communicate with me through his eyes and as the saying goes "The eyes are the windows to one's soul."   Unfortunately with videos you're limited by time but by people's positive response to the video we think we did justice to telling Lundi's story.
Your first hit single It's about time featuring group members from Boom Shaka took the country by storm, especially in the dawn of our new democracy. However people are still wondering what you were saying in your verse, can you clarify the contents of that verse?
[Laughs] The story behind that verse is really simple, we had been invited to open up for Christos and at that time we didn't have a song, so Junior, who always came up with great ideas, wrote the song for us including my verse because I obviously wasn't a rapper at that time.
Lebo was a bit frustrated because she only sang the chorus of the song and wanted to do more, so we all agreed that she could share the rap verse with me and to be honest I really don't remember what the verse was about, Junior did explain the verse to me during the inception of the song but that was years ago.  Maybe you guys should interview Junior to find out what that verse meant.
We definitely shall Thembi...  
Do you remember the lyrics of It's about time?
Credit image:  Instagram/Thembi Seete